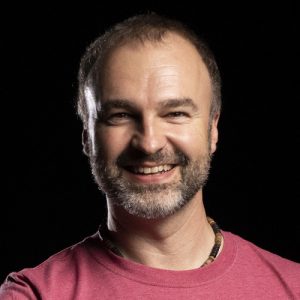 Greg Pretty has spent a good part of his academic and working life as an integral part of the MSVU community, so it's fitting that he'll mark the completion of his Master of Education degree as valedictorian.
Greg completed his degree while working as Manager of Multimedia Services at MSVU, where he's been an employee for more than 25 years. Over the course of his time at the university, he's also been involved in many committees and initiatives, served as a part-time instructor and taken undergraduate and graduate courses.
Greg will deliver his valedictory address during the fall 2020 virtual convocation on November 1st at 3 p.m. AT; you can watch the ceremony via MSVU's Facebook and YouTube pages.
We asked Greg to tell us about his time at MSVU and what's next for him. Read on to learn more about Greg!
Hometown: Clarenville, Newfoundland
Current city/town:  Halifax, Nova Scotia
Degree being awarded:  Master of Education in Lifelong Learning
Previous education completed: Since graduating from the Ontario Institute of Audio Recording Technology (OIART), I've had the enviable opportunity to work in a place of academic excellence. For 25 years, the MSVU community has surrounded and supported my educational and professional development goals, with specific thanks to the Communication Studies program. My education and expertise as an audio engineer and multimedia specialist was honed and nurtured until my inevitable graduation with a Master of Education. I am beyond proud to wear an MSVU grad ring.
About Greg
Why did you choose to study at MSVU?
It's my second home. There was no other choice for me.
How were you involved on campus during your time as an MSVU student?
I've been a part of the MSVU community for 25 years. First as a student taking undergrad courses, then as a staff member, a manager, and then as a part-time professor. I've participated in a wide range of committees and initiatives over the past 25 years and it's been a pleasure to be able to work alongside my many MSVU colleagues to collaboratively improve and energize the MSVU experience.
How have you stayed connected to the MSVU community since March?
I have remained connected to my coworkers and friends as part of my roles at MSVU. I've spent many hours supporting our transition to an online campus and teaching classes online.
Who are your academic and research mentors (either at MSVU or beyond)?
Many of my academic friends within MSVU community have been a source of encouragement and support.  Meeting for coffee and over the web as of late with many of them has given me the motivation and confidence to continue the journey. In my research and writing, I have found myself gravitating towards Mezirow's work on transformation and – tied closely with this – a passion for Mihaly Csikszentmihalyi's work on the psychology behind the creative process.
Did you complete any work terms or internships?
Yes, I did a practicum as part of my program. I developed training workshops and video materials for software and tech for the IT&S Department and the MSVU community.
What class, professor, project or learning activity has held the most meaning for you? Why?
My interest in the creative thinking and process was inspired during a seminar course where we were challenged to think differently about the nature of form of research and how we make meaning and generate knowledge. There was a considerable amount of resistance and challenge in this among my fellow students. Our struggle with the unorthodox form of the projects was expected and it was a fascinating learning experience in and of itself.
What is your favourite location on campus and why?
Picking one location would be hard – the campus has always been filled with trees and roaming deer which means the grounds are a wonderful source of peaceful and pleasant moments. For an internal location, the Atrium of the McCain Centre has been the site of so many fun and enriching coffee dates and casual meetings that I would have to choose it as my top choice.
If you could share just one piece of advice with your pre-MSVU self, what would it be?
Don't wait, start the first step of your journey today, tomorrow. ASAP. Even if you can't see the whole staircase, take the first step.
Do you have any favourite stories about your time at MSVU?
After 25 years, there are too many to count. It's been my community for my entire adult life. It's quite priceless for me.
What's next for you?
Oh wow, well you know those academic friends I mentioned, they are already poking around asking and encouraging me to consider a PhD.  And I have to say: no comment, ha ha – even though this flies in the face of my own advice to myself. I need a chance to sit under a tree and strum a guitar for a few months before I could even consider that next step…but you never know.
Anything you would like to add?
I can't thank MSVU and its community enough for the career adventure and fun I've had over the last 25 years. It's a gem of a place to work and learn and I look forward to more adventures.