Dr. Margaret Mary Fitzpatrick, S.C. was elected Congregational Leader of the Sisters of Charity—Halifax in October 2020 and in that role also serves as Chancellor of MSVU.
Dr. Fitzpatrick, S.C. served as President of St. Thomas Aquinas College in New York for 25 years during which she became a recognized leader in higher education across the United States for her ability to find strategic ways to adapt to rapidly changing times. She retired from the role of College President in June of 2020, however remains a tenured faculty member in the fields of education, mathematics, science and religion.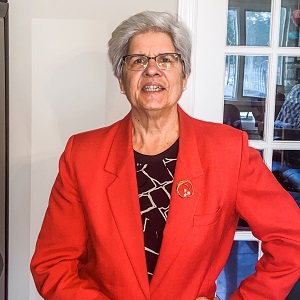 Born in Brooklyn, New York, and raised in Massachusetts, Dr. Fitzpatrick, S.C. holds a bachelor of science in mathematics, a master of arts in religious studies, a master of education and a doctorate in higher education from Columbia University. Her dissertation, "Orientation for Social Responsibility," explored the idea of higher education as a means to serve society. As a member of the Sisters of Charity, she has devoted her life to serving the world through education.
"We are delighted to welcome Dr. Margaret Mary Fitzpatrick, S.C. to the MSVU family," said Anne McGuire, Chair of the MSVU Board of Governors. "The Board of Governors specifically, and MSVU community broadly, will benefit greatly from her deep passion for and extensive leadership experience in higher education."
Noted Dr. Mary Bluechardt, MSVU President and Vice-Chancellor, "Throughout her career, Dr. Margaret Mary Fitzpatrick, S.C. has demonstrated a particular focus on social responsibility in post-secondary education, as well as strong commitment to student success, both of which make her a superb fit with MSVU."
"I am honored to join the MSVU community," said Dr. Margaret Mary Fitzpatrick, S.C. "I have been engaged in higher education for my ministry and look forward to working with the MSVU community to foster its mission. It is a privilege to serve."
In this role, Dr. Fitzpatrick, S.C., also serves as a member of the MSVU Board of Governors.
Her installation ceremony will be held during spring 2021 convocation.
MSVU is grateful to previous Chancellor Sister Joan O'Keefe for her many contributions during her six years in the role (2014-2020). As Chancellor and member of the MSVU Board of Governors, Sister Joan brought to the University a deeply thoughtful perspective on MSVU affairs and matters affecting post-secondary education generally. One of her most cherished aspects of the role was celebrating student achievement at convocation ceremonies.