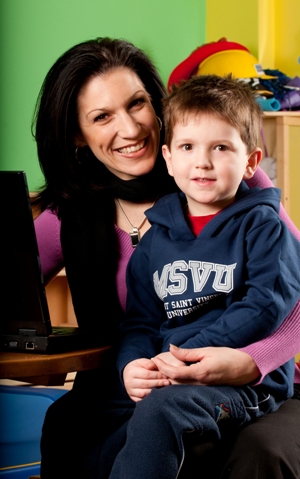 Danielle Hartley wears many hats. She is a mother of four children, ranging from toddler to teen; she is a hard worker and, it would seem, a Jane of all trades. She's also a mature student in the Mount's Bachelor of Public Relations (BPR) program, and is now completing her final co-operative education (co-op) work term of her degree.
Going back to school is a pretty big decision, especially when you have such a large family. Danielle's decision to further her education was largely inspired by her children.
"I wanted a better life for my family, and I wanted to show them you can do anything you set your mind to," she says.
 
Spending time with her family is still a top priority for Danielle, who has so many other things on her plate. To juggle her many responsibilities, she opts to take distance courses when she can so she can work from home.
But Danielle does love to be on campus and part of the community.
"The small class sizes are very conducive to a great learning experience, and the professors are great," she says.
Part of Danielle's connection with the faculty and staff at the Mount has grown out of her co-op experience. She spent a term working for the Mount Public Affairs office, where she made tremendous contributions to the website redesign, in addition to gaining valuable relationships with many people on campus.
"The Mount isn't just where I received my education, but the staff and professors played such a formative role in who I've become," says Danielle. "It's not only a great community, but it's now part of who I am."
Co-op has been good to Danielle, offering her many exciting experiences. In addition to working with Mount Public Affairs, she also spent time with the Mount's recruitment team, and is currently completing her final work term with the Membertou Corporate Division.
But despite her busy school and co-op schedule, Danielle chooses to work several part time jobs—everything from selling Mary Kay to Columbarium Memorial Niches.  She is also an avid hockey mom, cheering on her oldest son at his competitive games, and is involved with all of her children's extra-curricular activities. As many parents can attest, keeping up with kids activities can be a full-time job in and of itself.
With all of this going on around her, Danielle is still dedicated to her studies. She is a keen student, making top grades, and is eager to learn. She's also happy to share her experiences with her peers. After years in the workforce, she has many stories to call upon in the classroom when a familiar topic pops up.
"I love the sense of community here," says Danielle. "I feel at home."
With just a few courses standing between her and graduation, Danielle looks forward to taking her BPR degree and applying it in exciting new positions. Regardless of where she goes, she will always be a valued member of the Mount community.