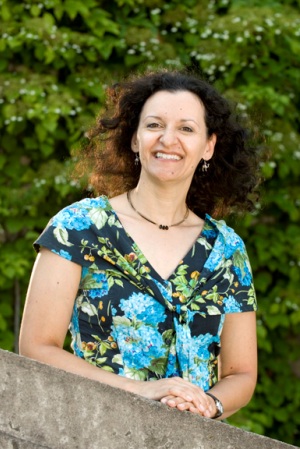 Many of us are interested in learning more about our heritage. But would you be interested enough to spend three months on a remote island – population 4000?
Dr. Susan (Susie) Brigham is. A professor in the Mount's Faculty of Education, Susie is getting ready to move with her family to St. Helena, a small island off the coast of West Africa, to conduct research into her roots.
"The research is motivated by my desire to know my heritage, my history, my descendents, my 'Saint Side,' of the family and to learn more about my mother who I was very close to," Susie says.
Susie's mother emigrated from St. Helena to work in the UK when she was just 15 years old – something that was very common for women to do from the 1950's to the 1970's.  Susie wants to investigate this phenomenon and learn more about the effects this large migration had on the island itself and on the families left behind.

"The women and their families' stories will provide valuable insights about the common phenomenon of transnational families," Susie says. She looks forward to speaking with relatives and new friends about their experiences in order to further her research and her own personal understanding of her heritage.
"All my life, people have asked me where I'm from, what are my origins? To answer 'New Brunswick, Canada' has rarely been a satisfactory response to people who are curious about my racial and ethnic heritage.
"As a family we, no doubt, stood out from the norm. My parents were a mixed race couple, my mother was black and my dad is white, which was still considered strange in the 1960's with four brown kids who spoke with British accents."
Now that Susie is a mother herself, she is eager to show her children the birthplace of their grandmother. Her daughters, Lily (8) and Helena (10), who's named for the Island, are accompanying her, along with her husband.
"Helena has decided to do research about the flora and fauna," Susie says. "There are certain plants, flowers, insects and birds on the Island that exist nowhere else in the world."
The draw of the island in only enhanced by its unique ecology and culture. Susie intends to make the most of her time in her mother's native country, not only as a researcher, but also as a tourist.
"We plan to hike the island end to end," she says. "St. Helena is just 16 by eight kilometers, but it does mean walking straight up or straight down," she jokes.
But there is plenty of work to be done while Susie is on St. Helena, and with so few opportunities to travel to and from the island (there are only two voyages per year from the UK and more frequent voyages from Cape Town, South Africa) she is working within a set time frame to gather all of the information she will need to draw conclusions.
As two years of planning finally comes to fruition on this journey to St. Helena, Susie is eager to see what comes of her research. She hopes she will be able to not only shed some light on the culture and customs of the small island, but also have new stories to tell about her own heritage the next time someone asks "Where are you from?"