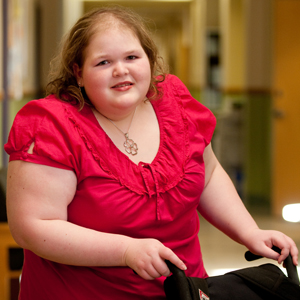 Child and Youth Study student already majors in perseverance
"Life is something like a trumpet. If you don't put anything in, you won't get anything out" — William Christopher Handy Musician
This is Lindsey Cousineau's favourite quote. Lindsey, a second-year student in the Child and Youth Study program at the Mount, has chosen to put as much into her life as possible, in spite of the many trials she's been faced with. A three-time cancer survivor, Lindsey refuses to let anything interfere with her life and career goals.
At age eight, doctors discovered cancerous tumors on Lindsey's spinal cord. When she was nine, she underwent her first radiation treatment. The cancer proved difficult to beat, and Lindsey found herself in and out of remission three times over the next few years. To add to her already tumultuous health, Lindsey also developed scoliosis, a side-to-side curvature of the spine, as well as kyphosis, a curvature of the upper spine.
Lindsey thanks two organizations for helping her and keeping her motivated as she battled with cancer: the IWK Health Centre, and the Children's Wish Foundation. As a child, Lindsey's health led to frequent visits to the IWK, where she became inspired to seek a career helping sick children and children with special needs. She is also thankful to the Children's Wish Foundation, an organization that raises funds to make dreams come true for children battling with illness.
"The Children's Wish Foundation sent my family and I to the Bahamas for a week to go swimming with dolphins – they're my favourite animal," says Lindsey. She's already made it her mission to give back to these organizations that have helped her so much in the past. When she was just 11 years old, Lindsey held a fundraiser for the IWK and Children's Wish Foundation; she raised an astonishing $3,700.
Her goal is to one day be employed with the IWK's Child Life Services, which works to make a sick child's stay as comfortable and stress-free as possible. Lindsey was drawn to the Mount's Child and Youth Study program for its reputation and hands on approach to learning.
Lindsey is excited to start her first practicum and to gain some hands-on experience. She says if she could have one superpower, it would be "the ability to cure diseases." But ultimately, all Lindsey really wants is a chance to help children the way the IWK and Children's Wish Foundation helped her. She is eager to put her degree from the Mount into practice, and use it to make a difference for a child much like her: battling, but never giving up.