$25,000 Productivity and Innovation Voucher to support scientific testing to optimize the nutritional value and taste of the beverage.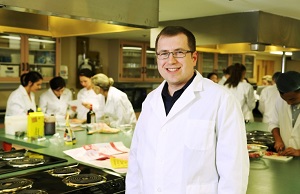 A new craft beer received a big vote of confidence to the tune of $25,000 as local food-producer Schoolhouse Gluten-Free Gourmet accepted a Tier II Productivity and Innovation Voucher award. The funds will support an ongoing partnership with Dr. Bohdan Luhovyy, Assistant Professor of Applied Human Nutrition at Mount Saint Vincent University, aimed at developing a new gluten-free brew.
"Dr. Luhovyy will help us refine the formula of our product so that we can confidently make nutrition-based claims for the gluten-free market," said Jennifer Laughlin, co-owner of Schoolhouse. "We are excited by the opportunity to work with him and hope to introduce our new beverage to the market within the next two years."

A recent collaboration between Dr. Luhovyy and Schoolhouse provided an opportunity to conduct preliminary research to identify the key elements for developing a gluten-free beer. The Tier 2 Voucher project will allow Dr. Luhovyy to test combinations of these elements to optimize its nutritional value and taste in a way that meets the high standards of the gluten-free market.

"Our goal is to find and test some innovations applicable to this product," said Dr. Luhovyy, an expert in functional foods and ingredients. "Beer is a popular beverage for many people including the growing number of health-conscious customers who would like to enjoy the product."

This ongoing collaboration between Schoolhouse and Dr. Luhovyy has been facilitated by the Mount's Industry Liaison Office which is charged with seeking out and creating opportunities for the university's research community to work with industry and other external partners. With gluten-free representing a fast-growing niche within the health food market, the Mount's Applied Human Nutrition department continues to provide important links to leading research and expertise in exploring the potential of these products.