"Labels are really tricky. If my brother googled Autism, one of the first things he would see is 'disorder.' What sort of expectation does that set? Who will explain to him what that really means?"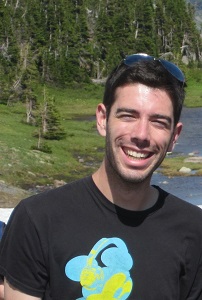 Labels, learning, disability – these are just a few of the notions that David Fainstein intends to tackle at TEDxHalifaxWestHigh on Saturday, November 30. The event, an offshoot of the international TED network, recruits remarkable speakers to present 'ideas worth spreading' and it's clear that David is more than qualified.
As a counselor, educator and behavioural interventionist, he has witnessed countless children overcome learning challenges when armed with the right information, tools and support. And as an older brother to a young man diagnosed on the Autism spectrum, he has an unwavering appreciation for the real people at the heart of these stories. David intends to pull from both perspectives as he takes the stage.
"There is no way I would be doing what I'm doing without my brother being who he is," said David, now nearing the end of his first semester of his Master of Arts in School Psychology at the Mount. "I've seen first-hand the disadvantages of not providing families with the information they need."
While he's careful not to give away the secrets of his TED talk, David's underlying passion for challenging the way we think about education and special needs populations is sure to shine through. It's the same passion that fueled his undergraduate degree in psychology and computer science, his work as an iOS developer at the Centre of Autism Research, Technology, and Education, and his decision to travel from Victoria, BC, to Halifax, NS to become a School Psychologist.
"The more I go through school and the more I learn, the more I realize how much we don't know and how much more we need to know."
David is one of eight students in his cohort, each learning the critical assessment and diagnostic skills required to address anxiety, depression, learning and other challenges children and youth face. This specialty program is designed to offer students the close supervision from faculty advisors and extensive practical experience that they will need to enter the field.
"The program from step one has been practical which I really value. Everything we're learning can be used in schools when we finish the program."
He admits there is plenty to cover over the next two years of seminars, research initiatives, practicum placements and internships but he welcomes the opportunity to someday work directly with families like his own, ensuring they feel supported, informed and set up for success. In the meantime, rest assured he'll keep pushing learning differences into the spotlight.
"There are a number of misconceptions out there and they can never be remedied overnight. There's no one lecture that anyone can give that covers the whole Autism spectrum because it's so broad. But we can make a great deal of progress with people being interested and people talking about it."