Colette Robicheau is creating a community of goodwill in support of local non-profit groups.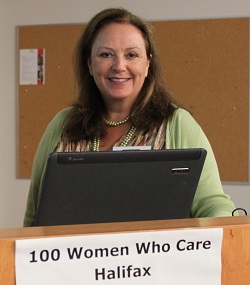 Although chilly weather has set in for much of Nova Scotia, the warmth of the community remains strong throughout the holiday season. However, in an age where everyone is incredibly busy it can be tricky to find ways to give back. But that hasn't stopped business owner and PR grad Colette Robicheau.

Colette is the president of Halifax-based organizational agency Organize Anything, serves on numerous committees, and still found time to start up a charitable organization of her own. Despite having little time to spare, Colette loved the idea behind 100 Women Who Care too much to resist – or, as she puts it, "I just went from my gut."

The organization is devoted to assisting Halifax-based charities. Members donate $100 and meet regularly to choose one of three nominated non-profits to receive the group's combined donation of $10,000. It was established in Halifax by Colette and Jennifer Huber, who jointly run the event.

"I couldn't believe it as the members joined one by one until we hit that magic number of 100," she said, thinking back to the organization's first event in March 2013. "The same way it resonated with Jennifer and I, it really seemed to resonate with other people."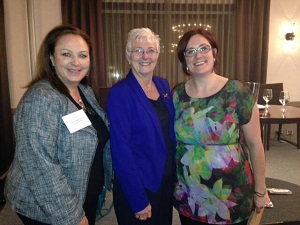 The Halifax chapter is the fourth to exist within Canada and has raised approximately $53,500 so far this year. Donations have already been given to non-profit groups including Bryony House, Laing House, Alice Housing, and most recently, Big Brothers Big Sisters of Greater Halifax which received $10,000 to help fund newer teen programs uniting high school students with elementary school students for ongoing mentorship.

Although open to all women, Colette finds that the organization has resonated with busy women in particular, those who want to give back to the community in some way but struggle to find the time given everything else in their days.

"A lot of busy women come in, go to the meeting, write their check and leave," she said. "Some people don't even make it to the meetings, but they're still writing their checks and getting it to us for the meetings as well."

Those who simply drop off their checks and depart are missing out, however. Before it's decided which of the charities will be voted in to receive the organization's support, each gives a five minute presentation as to what would be done with the funding.

"To get in the room and really hear the storytelling that is involved with these organizations… it's very touching," said Colette. "We know from their presentations it makes a huge difference to them. And our members tell us they are just as thrilled to be connecting to give back to our local community."
Story contributed by Public Relations student Monica Albert.