Check us out over the holiday break!
Thinking that the Mount might be the right school for you? Whether you'd like to start classes this January or you're gathering information to apply for September 2014, read on for more information about our community and how to Be a Mount Student.
We make it easy to connect with the Mount for gathering information or for getting to know students just like you. Check out our Facebook, Twitter, and other social media pages to get tons of information and connect with members of the Mount community. Even better, come see our beautiful campus for yourself and learn first hand about what we have to offer.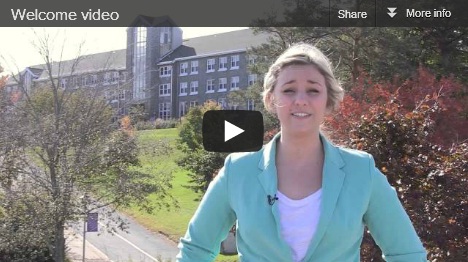 Book a personalized tour or register for our winter open house Explore the Mount taking place on February 28, 2014 (register here). The Mount will be closed for the holidays until January 2, but we urge you to take a look at our new video tours and submit your request to book a campus tour for any time after January 6, 2014.
Apply to the Mount
Click here to access online application forms and to pay your application fee. If you have any questions, please e-mail questions@msvu.ca or call 902-457-5540 and we will respond to your inquiry after January 3, 2014.
Programs and Departments
While you're browsing the Mount website, make sure to check out our full list of degree, certificate and diploma programs. The Mount has a broad range of courses and programs for students to choose from, including arts, sciences, and professional studies. With so many choices, there is almost certainly something for you at the Mount.