"I went into this project with strong convictions about the industry, and then I met a compelling character and was able to understand and relate to their story."
In addition to her role as
Professor and Departmental Chair
of
Women's Studies
at the Mount,
Meredith Ralston
had established herself as an accomplished documentary filmmaker with the 2005 release of
Hope in Heaven
and her NFB films
Why Women Run
and
Wendy Lill: Playwright in Parliament
. As such, she jumped into the development of her latest film,
Selling Sex
– which is premiering Friday, September 18th at the Atlantic Film Festival, feeling confident that she knew the ropes. What she didn't expect was that the film, which follows an online escort named Megan for the better part of a year, would lead Meredith on a personal journey of her own – changing her long-held convictions and beliefs on sex work.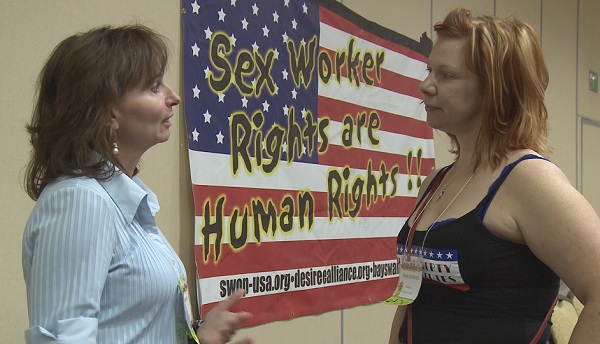 "My original intention was to do a broader look at prostitution, cross-culturally, and so I was going to try to capture both the 'pro' and 'against' sides," explains Meredith. "After meeting Megan, and several other women like her, the 'pro' side became much more compelling for me, and I saw the film as a companion piece, if you will, to Hope in Heaven which clearly outlines the very dangerous and traumatic aspects of the industry."
Dispelling the myth that all sex workers are victims, Megan calls sex work her calling and shows how stigma, double standards and the marginalization of sex workers harm all women. Selling Sex features interviews with Megan's colleagues, one of her clients and researchers, while following Megan as she prepares to give a speech on the value of sex work to an audience of missionaries, anti-trafficking activists and law enforcement personnel.
"In editing, we saw that Megan was the person to tell the story of the 'pro' side and she does it with such humour and openness that we felt she could change people's minds on the subject if anybody could. It also became evident that I would be a character in the film since meeting Megan challenged my ideology so much and we could use me as a way for the 'against' side to be represented in the film."
The legal, moral and ethical debate around sex work has been ongoing for decades, but the discourse has increased recently with sex work advocates having their voices amplified through mediums such as social media. Recently, even Hollywood got into the mix with several leading actors being taken to task for signing a petition asking Amnesty International to reject a proposal to support the decriminalization of the sex trade.
"This recent debate is interesting," says Meredith. "I can understand the gut reaction to not criminalizing the johns and pimps, as they always call them in the anti-prostitution arguments, but now I see the other side clearly too. What we are failing to see is that there is a dichotomy across the industry, and our approach cannot be one-size-fits-all."
"I hope the film will open people's eyes to the complexity of the issue and they will see that not all women working in sex work are victims and not all men are predators."
Meredith says that during the course of filming, Megan provided her with greater insight into how our cultural beliefs around sex and sex work are negatively impacting the women working in the industry. "There are a range of experiences and we're only hearing one side of the story when we assume that all prostitution is trafficking – which is exploitative by definition," says Meredith. "I also hope the film will contribute to the conversation about slut-shaming and will show people concretely how the Madonna-whore dichotomy harms all women, but especially sex workers."
The violence and human rights issues with the international sex trade industry and the growing advocacy movement being led by consenting sex workers are two different issues that Meredith believes are being conflated. "We need to normalize sex, we need to examine the prejudices and stereotypes we hold against those who would make the choice to go into sex work," says Meredith. "The more we push this work underground, the more we are creating unsafe conditions for sex workers. There is a power imbalance where all of us on the outside are taking away sex workers' control."
Already a very popular professor at the Mount, Meredith feels as though this process has rejuvenated her own thirst for learning. "This project has made me question what other ideologies and biases I have that need to be explored; and I'm going to be pushing my students to do the same."
Tickets for the premiere of Selling Sex, taking place Friday, September 18th at 4:30pm, are available for purchase online.