This is one of my favourite times of the year.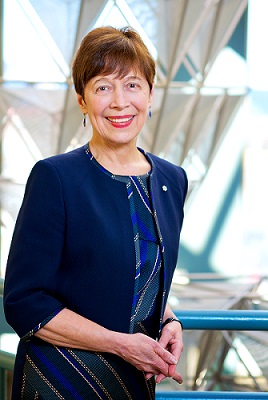 I love the special feeling of opportunity that the start of a new academic year brings.
As we set our sights on the adventures that lie ahead, I'd like to take a moment to look back at a few recent accomplishments.
McCain Centre Opened
On May 29, we celebrated the official opening of our new Margaret Norrie McCain Centre for Teaching, Learning & Research, which will receive its first class of students this fall. The McCain Centre is a student-oriented new building that is technologically advanced, environmentally conscious and more than doubles the number of spaces for exclusive use by students on our campus.
[More]
My hope is that it is also an inspiring space through its dedication to celebrating the accomplishments of women – more than 500 women are honoured through the Centre and the Women's Wall of Honour just outside.
This upcoming academic year will be the first that students will be able to walk inside to all academic buildings. Aptly named Student Legacy Lane in recognition of Mount student support of the new building, a new pedway now connects the McCain Centre to the Rosaria Student Centre. If this winter is anything like our last, this new indoor connection will be of great benefit. All Mount students are invited to share in a special student-centered celebration of the opening of the McCain Centre on Wednesday, September 16 at 4:30 p.m. I hope to see you there.
Ensuring a safe university environment
In keeping with our continued commitment to ensuring a safe university environment, we also advanced our efforts this past summer to ensure we have the right policies, practices and systems in place in this regard.
As part of our most recent efforts to update our emergency response plan, we're introducing violence prevention training and a mass notification system (called "Mount Alert") for all members of the Mount community. Stay tuned to your Mount e-mail for more information on both of these initiatives to follow in the days ahead.
New policy against sexual assault
Also this past summer, the Mount's Board of Governors approved a new university Policy Against Sexual Assault. The new policy is posted on the Mount website – you can access it
here
.
The new stand-alone policy makes clear our university's zero tolerance for any form of sexual assault, as well as provides additional information and important focus on this topic. New content (including on-campus and off-campus resources for anyone in need of help) has been added to the Mount's website and can be accessed here:
www.msvu.ca/sexualassault
.
Stay connected
Without question, one of the highlights of my job is getting to know the amazing students who call the Mount their university home. I was so delighted to meet many of you (and your families) at the commencement ceremony held on September 6. I look forward to meeting as many more of you as possible as the fall begins, as well as getting to know our new faculty and staff, and reconnecting with returning members. A warm welcome, or welcome-back, to all of you.
I invite anyone interested to join me for lunch in the Rosaria Dining Hall throughout the year. I pop in there for lunch as often as I can – please don't hesitate to come sit with me! Whether you're joining us on campus or from other locations, I also encourage you to stay in touch with the Mount via our official
Facebook
,
Twitter
and
Instagram
accounts.
Best wishes for a great year ahead.
Ramona
Ramona Lumpkin, CM, PhD