Event welcomes new students to the Mount family
On Sunday, September 6, new Mount students were piped in to the auditorium in the Seton Academic Centre in a ceremony that celebrated their new membership in the Mount family – the same auditorium in which they will sit as graduates in the not too distant future.
The event marked the return of the commencement ceremony to the Mount's orientation week agenda, and by all reports it was a welcome reinstatement, uniting new students with faculty, staff and student leaders in a sh
ared commitment to the Mount community.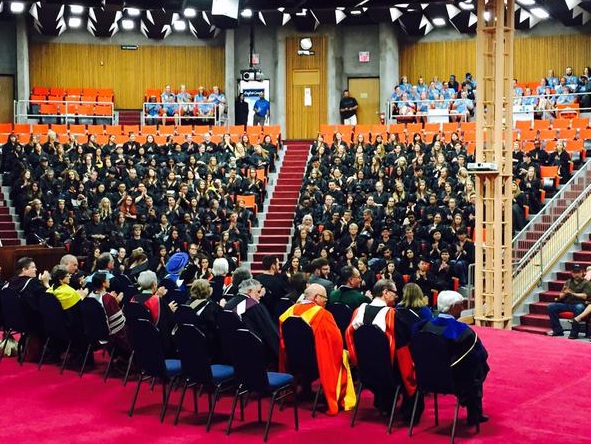 The goal was not just to welcome first-year students, but also to help set them up for the greatest success possible through their Mount experience.
In her commencement address, Dr. Ramona Lumpkin, CM, Mount President and Vice-Chancellor shared 10 pieces of wisdom from senior Mount students – things they wish someone had told them when they were starting out. She ended her list with the following: "This is a time to figure out who you are and what matters to you. That journey in fact never ends, we're all still on it, and I'm very happy to welcome you to the Mount as you join us on your journey."
[Read the 10 pieces of wisdom Dr. Lumpkin imparted here]
The Mount's
Students' Union
president Justin Corcoran delivered a Dr. Seuss-inspired poetic speech to the delight of many. He noted: "You are all very special, in every way shape and form / And university is a place where you can start to transform / So don't be afraid to try out new things / Experience the joy that university brings / We are all here for you, from beginning to end / And to give you a start, let me be your first friend."
"If you can do me one favour this week, this month, this year, while you're here, it would be to not hold back," added Matt Morash, a recent Mount two-time grad who now works full-time as a secondary teacher in Nova Scotia's South Shore. Matt addressed attendees from the perspective of a new alum. "Take risks, ask questions, and get involved. This university experience will be what you make it and you'll love every minute of it. Remember that you're here to learn and so, you need to be open to it!"