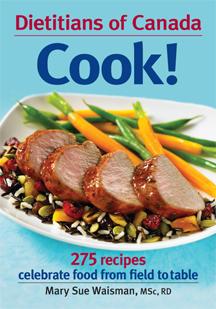 Working as both a professor in Applied Human Nutrition at the Mount and a self-employed consulting dietitian, it is hard to imagine finding the time to write a single cookbook, let alone three. Mary Sue Waisman, MSc and PDt, has successfully achieved this goal and has done so with great passion.

Growing up in Syracuse, New York, Mary Sue went on to earn her Bachelor of Science at Seton Hill College in Pennsylvania. After that, she completed her dietetic internship at Yale New Haven Medical Centre in Connecticut. During her internship, she met her husband which led her to Canada to receive her Masters at the University of Calgary.

Having spent 25 years working in all aspects of dietetics, Mary Sue says that she "was always kind of restless." This gave her initiative to return to school, only this time, it would be for cooking. In 2000, she applied and was accepted to the Southern Alberta Institute of Technology in Calgary where she received her Diploma of Professional Cooking.

Five years ago, Mary Sue moved to Halifax and for the last three years, she has been teaching intermittently at the Mount. In January, she started teaching full time with the intention of working until April. When asked what her favorite part about teaching at the Mount has been, she says it has been finding "creative ways to engage students about food." Not only does she lecture at the Mount, but she also teaches continuing education cooking courses for the public at the Nova Scotia Agricultural College (NSCC) in Dartmouth.

As if this wasn't enough to keep her busy, in February, 2011, Mary Sue's third cook book, entitled Cook!, was released in stores. A member of the Dietitians of Canada (DOC), she was contracted by the DOC to help them assemble Cook! The next step for the DOC and Mary Sue was to recruit members of the DOC and the public to submit recipes. Once all of the recipes were submitted, it was time for Mary Sue to start testing them. After preparing 275 recipes over a long nine months, Cook! was ready for the world to see.

Before taking on Cook!, she co-wrote the cook book, Simply Great Food, again teaming up with the DOC and before that was the self published cook book, Flavour First: Delicious Food to Bring Family Back to the Table.

After spending so many years working in dietetics and cooking, Mary Sue says that a cook book "seemed like the next natural thing to do."

Being taught to cook at a young age, she has always had a passion for it. Coming from a family of cooks, it's no wonder. "I love food, love learning about food, love food history, I love everything about it," she says. "It's a delicious way to keep you healthy."

When asked who inspires her, Mary Sue says "my kids." She explains how her children would bring friends over all the time and she thought "I better feed these kids!" She then prepared them a meal and upon giving it to them she said she "watched magic happen. Great things happen at the dinner table and great tasting food keeps them there" she says. "It's sort of where life happens."

For the future, Mary Sue plans to continue consulting, she does not, however, rule out the opportunity to carry on teaching, as she loves the teaching aspect of food. She advises her students to "learn all they can, find their passion, and go for it. The world really is your oyster; you can do anything you want."

In addition, she says to "be kind to people and give back to your community." One can certainly tell that Waisman has found her passion and is giving back!

Celebrating Nutrition Month 2011

Join Mary Sue along with faculty and students in the Department of Applied Human Nutrition to celebrate Nutrition Month 2011, on March 21 at 1:00 p.m. in Evaristus C409 (new space student space).

The celebration will include a brief presentation from Mary Sue as well as a taste testing of some of the recipes from Cook!. Mary Sue will have cookbooks available for purchase and will sign your copy. You will also be entered into a draw for a chance to win a copy of Cook!.  Hope to see you there.