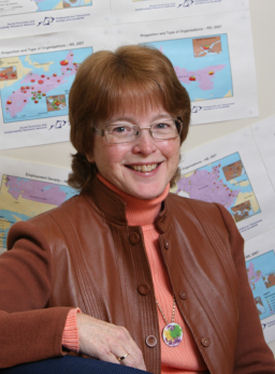 Dr. Leslie Brown, Chair/Professor, Sociology & Anthropology, is a co-recipient and member of the management board of a new million-dollar, five-year, Community-University Research Alliance (CURA) grant for the project "Measuring the social, environmental and economic impact of co-operatives in Canada."
"This grant is very important and allows us to delve into subjects we only scratched the surface of before. We're entering new realms of research on co-operatives, and it's very exciting," says Dr. Brown.
A co-operative is an association owned and controlled by members and is guided by a common set of values and principles. There are close to 9,000 co-operatives operating across the country with more than 17 million memberships.
Dr. Brown says the CURA research will explore the economic, social and environmental impacts of co-operatives on their communities. She will be involved with other academics and community partners in developing tools to measure these impacts.
Research will also focus on co-operative social and environmental accounting and reporting practices, and the ways co-operatives use these to inform strategic planning. Additional topics will examine infrastructure support for co-operative development, how to replicate cooperative innovation, and co-operative responses to market failures.
The CURA research network extends to three other universities across the country, including the University of Saskatchewan, the University of Victoria, and St. Mary's University. The Canadian Co-operative Association and the Universities work with over a dozen co-operatives and credit unions, including Co-op Atlantic, the Canadian Worker Co-operative Federation, and provincial co-op councils.
"Working with other Universities and organizations is very promising in building our knowledge and provides the opportunity to work with partners who want answers and who contribute to finding answers. It's a great chance to share resources and expertise," she says.
Dr. Brown's research will also give students the opportunity to gain hands on experience as several undergraduate and graduate students at the Mount will be given a chance to work on this project.
"This kind of learning experience will give students practical research experience that will help them in their future careers," says Dr. Brown.  
Based at the Canadian Co-operative Association (CCA), the CURA will be co-directed by John Anderson of the CCA and Dr. Sonja Novkovic of St. Mary's University.
About Mount Saint Vincent University
Recognized as a leader in flexible education, applied research, and a personalized approach to education, Mount Saint Vincent University is nationally recognized among undergraduate universities in Canada for our success in Social Sciences and Humanities Research Council grants and for having one of the lowest student-to-professor ratios. The Mount is committed to providing the best university experience for all members of our community and to developing thoughtful, engaged citizens who make a positive impact on their world. For additional information about the University, visit msvu.ca.

For more information contact:
Akiko Lovett
(902) 441-0505