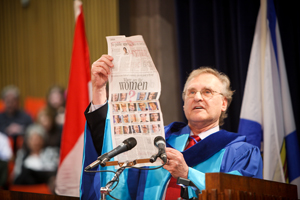 On May 20 and 21 more than 650 students graduated from the Mount and were encouraged by honorary degree recipients Stephen H. Lewis and Roberta Jamieson, to become engaged thoughtful citizens and to make a difference in their worlds.
"Let nothing stand in your way," said Lewis. "There is nothing more noble in this world than to achieve equality and to ameliorate the human condition and to make social justice what it should be for every person on the planet."

"Each of you graduates have the power to shape your lives and surroundings, the power to determine how you are going to relate to other people and the power to create change in your communities," said Jamieson.

More than 40 student awards were presented, including the Valedictorian Prize, which was awarded at each of the three ceremonies to valedictorians Stuart Caldwell (Bachelor of Arts), Bedford, NS; Matt DeCourcey (Master of Public Relations), Fredericton, NB; and Alexandra Manning (Bachelor of Education), Head of St. Margaret's Bay, NS.

The President's Prize, which is awarded to a graduate whose generosity, energy and commitment enriches the University was presented to Jeremy Neilsen (Bachelor of Arts, Advanced Major), Centreville, NS.

The Kappa Gamma Pi awards for scholarship, leadership and service and were awarded this year to Crystal Primeau (Bachelor of Arts), Lower Sackville, NS; Kailyn Grimly (Bachelor of Public Relations), Halifax, NS; Minglu Gu, (Master of Education, Literacy Education), Suzhou, China; and Erin Michelle Chalk, (Bachelor of Education, Elementary Education) Moncton, NB.

Governor General Medals are given once a year to students with the highest aggregate in the final three years of a degree program. This year, Stephen Richard Vallee (Bachelor of Science, Honours), Timberlea, NS and Roy Fraser Jamieson (Master of Public Relations) Dartmouth, NS were recipients.

The Lieutenant Governor Intergenerational Award was presented to Amanda Mary Arnold (Bachelor of Arts, Advanced Major), Lower Sackville, NS for her outstanding commitment to enriching the lives of youth in her community.

In addition, nearly 30 students received Senate Medals this year, which are presented to students graduating with distinction and the highest aggregate in their respective program.

Dr. Janice Keefe, Professor, Family Studies & Gerontology and Canada Research Chair in Aging and Caregiving Policy was presented with the Research Excellence Award, for her contribution to outstanding research in her field. In addition, Dr. Suzanne Seager, Professor, Mathematics & Computer Science was presented with the Alumnae Award for Teaching Excellence, in recognition of her superior teaching and in appreciation of her contributions to the high standards and goals of higher learning.


About Mount Saint Vincent University
Recognized as a leader in flexible education, applied research, and a personalized approach to education, Mount Saint Vincent University is nationally recognized among undergraduate universities in Canada for our success in Social Sciences and Humanities Research Council grants and for having one of the lowest student-to-professor ratios. The Mount is committed to providing the best university experience for all members of our community and to developing thoughtful, engaged citizens who make a positive impact on their world. For additional information about the University, visit msvu.ca.
-30-
For more information contact:
Akiko Lovett
akiko.lovett@msvu.ca
(902) 441-0505