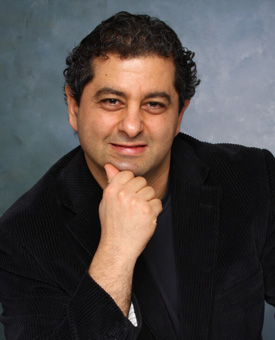 Dr Chérif Matta, Assistant Professor, Chemistry and Physics, Mount Saint Vincent University has been awarded the Molecular Graphics and Modelling Society (MGMS) Silver Jubilee Prize for 2009.
Awarded annually, this international prize recognizes outstanding researchers for their contributions to the field of molecular modelling and related areas (including the development of methods, scientific hypotheses and insights, research presentations, patents, software and algorithms).  Dr. Matta was recognized for his outstanding research record, as well as his contributions to scientific advances.
"I feel honoured and humbled since there are so many other deserving candidates for this prize," says Dr. Matta.
MGMS, a UK-based society, aims to support postdoctoral and young independent researchers in the early stages of their careers. Established in 1981 it is dedicated solely to the interests of molecular modelling and related aspects of computational chemistry. Since then its membership has grown to include researchers in most European countries, North America, Japan and Australia.
"The MGMS committee were impressed not only with the quality of Dr Matta's research, which is published in leading journals and has made significant impact in several areas of science, but also with his sterling efforts to bring recent scientific advances to the notice of the wider public, says  Jamie Platts, Membership Secretary of MGMS.  "His commitment to both areas of science stood out in his nomination for the Silver Jubilee Prize, and makes him a worthy winner of this award."
Dr. Matta's research, which has been published in 50 articles and books, focuses on molecular electron densities of biological molecules to gain insight into their functions. Amongst other projects, one of his studies examines the uses of the electron density in the conceptual development of new drugs.
In 2004, Dr. Matta received the John Charles Polanyi Prize in Chemistry, a $20,000 award presented by the Ontario government annually, that recognizes researchers of outstanding merit. He was also awarded two other research grants including the I. W. Killam Postdoctoral Fellowship (2004-06) and the BioVision-Nxt Science Fellowship (2005 and 2003).