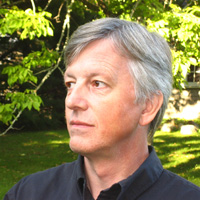 Have you ever asked yourself why the existence of God isn't more obvious? One Mount professor did, and the results of his thinking have steadily been growing in influence over the past 17 years.
Dr. John Schellenberg has been invited to speak at the 2011 St. Thomas Summer Seminar in Philosophy of Religion and Philosophical Theology at the University of Saint Thomas, in Saint Paul, Minnesota.  A professor in the philosophy department at the Mount, John came to Mount Saint Vincent in 1994 after teaching at the University of Calgary as well as at Medicine Hat College. 
Dr. Schellenberg is a philosopher who places a keen emphasis on the further evolution of religious thought and applies this through his passion for teaching.
"I have a love for teaching and am committed to furthering the intellectual lives of my students," he smiles. "I have thoroughly enjoyed my time at the Mount due to its small size and the peaceful physical and social environment."
In 1993, Dr. Schellenberg published a book with Cornell University Press titled Divine Hiddenness and Human Reason. The book elicited a great deal of discussion in the philosophy of religion. John has stimulated what is now a lively, growing debate that has made him a much-cited representative of the hiddenness argument for atheism which develops the idea that the absence of strong evidence of God is itself evidence that no God exists. It is for this reason that John has been invited to speak at the seminar.
"I'm excited to have been invited to this conference, as it will be a different kind of experience than I've ever had before," says Dr. Schellenberg.  "It will involve engaging with bright minded individuals who may go on to do further investigation on these topics. We will be examining what the strongest version of the hiddenness argument is in philosophy as well as looking at the distinction between philosophical theology and the philosophy of religion, and why it matters."
The seminar will consist of twenty recent PhD graduates in philosophy, theology, or religious studies who have been selected by a panel of academics with expertise in the philosophy of religion. Dr. Schellenberg will be debating the issue of 'divine hiddenness' with a well known American philosopher, Peter van Inwagen. The conference takes place from June 13 – July 1 with his presentation at the end of the third week on June 29 and 30.
Dr. Schellenberg's time at the Mount has been spent teaching and developing a trilogy investigating more fundamental questions pertaining to the philosophy of religion. The result is a series of books leading ultimately to a new reconciliation of reason and religion: Prolegomena to a Philosophy of Religion (2005), The Wisdom to Doubt: A Justification of Religious Skepticism (2007), and The Will to Imagine: A Justification of Skeptical Religion (2009).
Recently, the Cambridge University Press journal Religious Studies, an international journal devoted to the problems of the philosophy of religion, has agreed to devote a special issue of the journal for critical discussion of the trilogy in June 2013.
A South Shore resident, Dr. Schellenberg encourages his students to exercise their imagination. "The conception of skeptical religion is grounded in imagination, not belief," he indicates. "We humans have just begun the process of intelligent inquiry and it is possible that this development will continue for a long time."