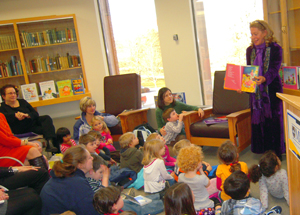 The Mount Library announces it has been given the honour of housing the Atlantic regional repository for the Canadian Children's Book Centre (CCBC) collection.
"The Mount faculty and students have enjoyed the use of the CCBC collection for many years now, and we are thrilled to be providing a new home for the collection here in the Mount Library," said Dr. Ramona Lumpkin, president of the Mount.  "This occasion is important to the Mount as a signal of the high value we place on literature and on literacy as a central part of our academic mission."
This ever-expanding collection includes more than 6000 new children's books published in Canada by Canadian writers. With mirror collections in Toronto, Vancouver, Edmonton and Winnipeg, the collection includes picture books, young adult books, non-fiction books, and series'. The goal of the collection is to promote child and youth literacy education.
"It is very exciting for the Mount to house this collection," said Donna Bourne-Tyson, University Librarian at the Mount. "As the premier Education degree granting University in the region, the collection will allow the Mount to continue its commitment to advancing literacy and will allow the surrounding community to enjoy the gift of reading."
The unveiling of the collection took place yesterday during an event at the Mount Library. Celebrated children's author Sheree Fitch concluded the event with a reading from one of her much-loved books to an audience including children from the Mount's own campus day-care.
"I couldn't think of a better place than the Mount to house this collection," says Kathleen Martin, on behalf of the CCBC. "With its commitment to promoting literacy, and its ongoing support for child and youth study, the University really compliments the goals of CCBC."
For more information contact:
Akiko Lovett
Public Affairs
441-0505