Update: April has won and will be a Dweller in the MLB Fan Cave. Congratulations April!
---
'MLB Fan Cave' offers unique experience to sports fan and BPR grad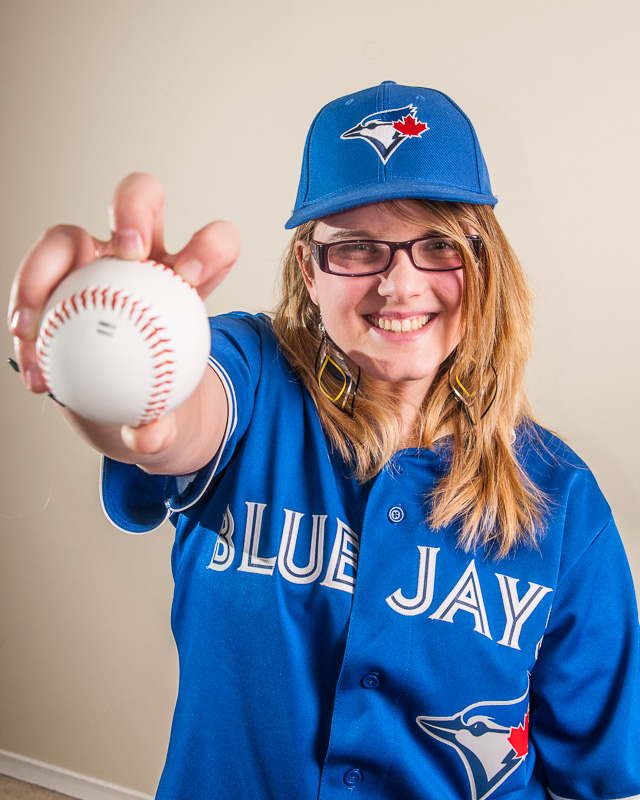 Always spotted in her Toronto Blue Jays jacket, April Whitzman was always destined to make it to the Big Leagues.
"I was the only girl on the guys' baseball team for years," laughs April. "I don't know what I loved more, the look of the opposing pitcher when he laughed at me as I stepped up to the plate, or the look of disgust when I would hit their fastball for a double."
As a Jays fan and recent PR grad, April decided to break into the quickly growing appetite for sports media. She carved herself a unique niche in a saturated market by featuring up and coming baseball prospects on her very own site, JaysProspects.com.
"Since I started JaysProspects.com, I have gotten the opportunity to interview nearly 200 Toronto Blue Jays prospects," April grins. "The site gives prospects from all ranks the chance to have their voice heard. Only three-percent of prospects ever make it to the Majors, so this site lets them all feel like a star."
While April has found her passion in bringing attention to baseball talent, she's recently found herself in the spotlight as a participant in the MLB Fan Cave contest.
The annual contest selects talented baseball fans to live in New York City, cover baseball games, interview players and celebrities, and learn the ropes of working for Major League Baseball. The experience could not be more invaluable for April.
"As the years go by, my friends and family tell me more and more that I can still watch sports in my spare time but are trying to push me into a more stable and less competitive career," she sighs and adds, "I'm not ready to give up on that dream."
Although April had the eye and initiative to start her own site, it was the Mount that helped her realize that Public Relations was the best way to break into the sport she loved. Her writing and social media skills were developed and refined to help make her baseball dreams a reality.
"If I didn't have the PR and communications experience that I gained at the Mount, there is no doubt I would not have made it to where I am today in this competition, or in my career thus far," she explains.
The other thing helping her get ahead is the support of everyone in the Mount community, and the people who vote for her to achieve her dreams.
You, too can help April as she competes for a top spot in the MLB Fan Cave! Share her link with your friends, and let the @MLBFanCave on Twitter know that @Alleycat17 is part of something big.