Dr. Elizabeth Church looking to hear from students
How many times have you grabbed lunch on the go, or just flat out skipped it? When was the last time that you really voiced your academic and career goals?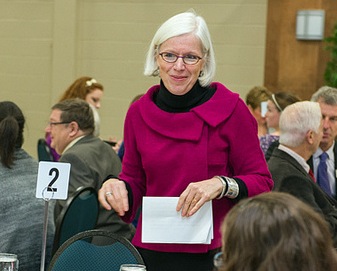 Elizabeth Church, the Mount's Vice President Academic, wants Mount students to do both, with free lunches being offered during a three-part series starting Tuesday, October 1st from 12:00 – 1:00p.m in the Rosaria cafeteria.
"I want to hear from students what they want from their education at the Mount," she explained. "Students have busy lives, and I know many are juggling not only school, but also work and home life. We need to make sure we're still hearing their voice but on their terms, doing things that fit into their lives."
A registered psychologist with her own clinical practice and many published works under her belt, Elizabeth understands what it's like to fill many roles, but appreciates the value of being engaged, most recently as a director for Oxfam Canada.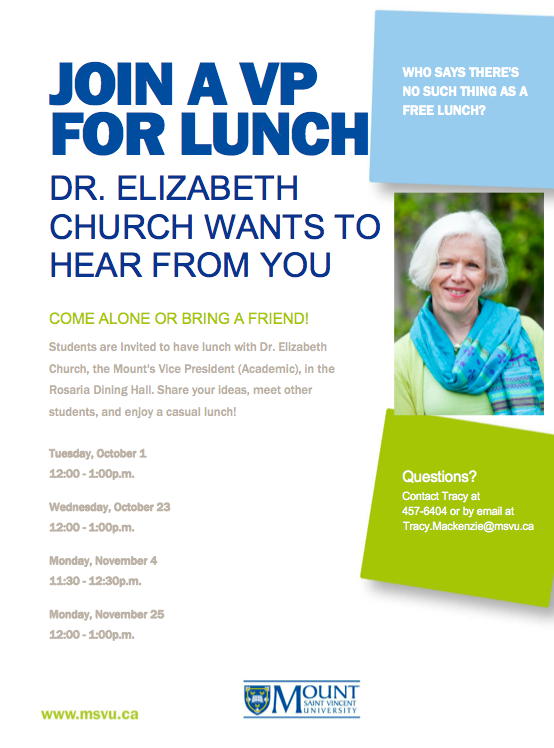 As a regular lead on workshops and presentations on campus, Elizabeth hopes the lunches encourage two-way dialogue with students.
"It's all about making sure we all communicate," said Elizabeth. "Our students have a lot of great ideas and we need to make sure the Mount is hearing them."
An RSVP is not required. Students are encouraged to drop by and join the discussion on the following dates:
Tuesday, October 1 12:00 – 1:00p.m.

Wednesday, October 23 12:00 – 1:00p.m.

Monday, November 4 11:30 – 12:30p.m.

Monday, November 25 12:00 – 1:00p.m.
Questions about the lunch series can be directed to Tracy.MacKenzie@msvu.ca or by calling 457-6404. A full sized poster can be downloaded here.