A presentation of Mi'kmaq culture and knowledge from within
Halifax, NS – Mount Saint Vincent University (the Mount) is celebrating the importance of Mi'kmaq cultural research and knowledge assessment in the final installment of its year-long Literacies as Ways of Knowing series.
According to Mary-Jane Harkins, Director of Teacher Education at Mount Saint Vincent University, "This will be a very informative experience in gaining an awareness of the role of one's culture in the different ways of knowing."
The Mi'kmaq Knowledge Assessment examines key questions around assessment tests, and whether they really determine one's ability to learn. Recent research has shown many knowledge assessment tests to be culturally biased. The interactive workshop will put that theory to the test, demonstrating the importance of culture in determining one's ability to learn. Stories and knowledge will be shared and in conclusion a "talking circle" will be used to provide an opportunity to share thoughts in regards to the overall workshop.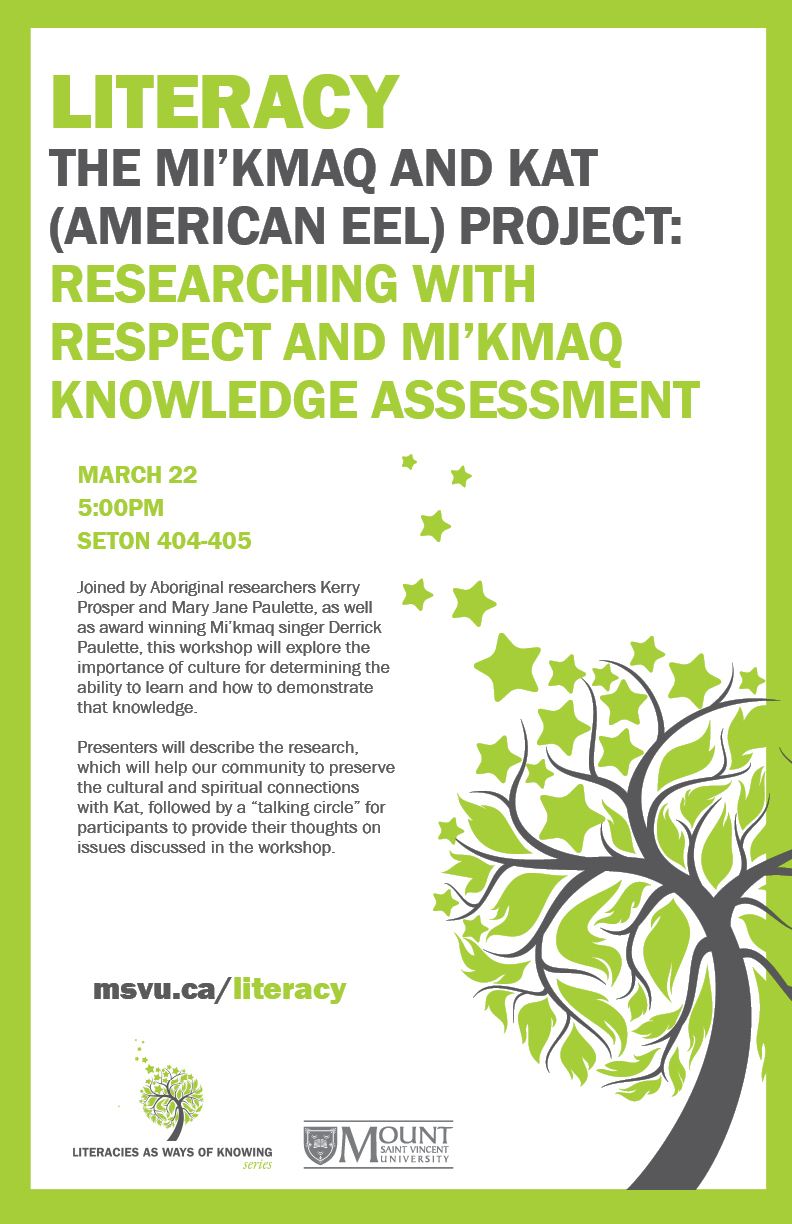 As part of the event, the presentation The Mi'kmaq and Kat (American Eel) Project – Researching with Respect will describe the benefits of collaborative research and highlight how researching its own community knowledge helped Paq'tnkek First Nation Mi'kmaq keep the cultural and spiritual connections with Kat (American eel – Anguilla rostrata) alive.
Presenters include Aboriginal researchers, Kerry Prosper and Mary Jane Paulette as well as award-winning Mi'kmaq singer Derrick Paulette.
The event will be held on Thursday, March 22, from 5:00 – 7:00p.m. in Seton Academic Building 404-405 at Mount Saint Vincent University. Attendance is free, and all members of the public are invited to attend.
About Mount Saint Vincent University
Recognized as a leader in flexible education, applied research, and a personalized approach to education, Mount Saint Vincent University has been nationally recognized among undergraduate universities in Canada for our success in Social Sciences and Humanities Research Council grants and for having one of the lowest student-to-professor ratios. The Mount is committed to providing the best university experience for all members of our community and to developing thoughtful, engaged citizens who make a positive impact on their world. For additional information about the University, visit msvu.ca.
-30-
For more information contact:
Trevor Corkum
Communications & Marketing
(902) 457-6439 (o)
(902) 441-0505 (c)
trevor.corkum@msvu.ca