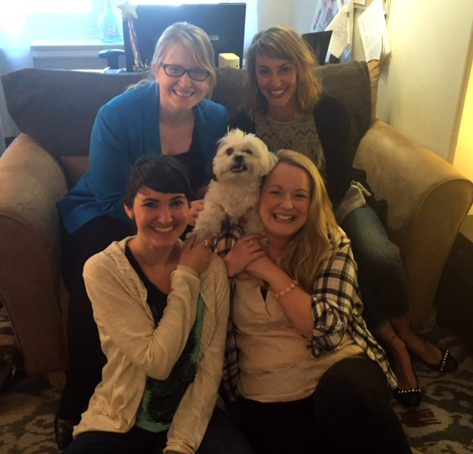 At the Mount, we understand that the journey through university can be both exciting and challenging. Whether you're having trouble managing time, dealing with relationship issues, stressed about exams or coping with depression and/or anxiety, please know that you're not alone and that there are people (and puppies!) right here on campus who can help:
Counselling Services Team

They provide personal and academic counselling to any registered Mount student. They offer a number of services so that the needs of each student are addressed by highly skilled and professional staff, from health and wellness to academia. In addition, Wellness Workshops, Self-care Support Group (and other group programs), and exam bootcamps are offered throughout the academic year. Make an appointment by calling 902-457-6567 or emailing
counselling@msvu.ca
. The office is open from 8:30 a.m. to 4 p.m., Monday to Friday. Appointments are free and confidential.
Peer Support Group

This student-led group provides on-campus emotional and social support through special programs and a casual drop-in sessions that can include anything from therapeutic colouring, assistance with homework and decorating cupcakes, to chatting with members of the campus community about specific worries and concerns. Students who participate find a nonjudgmental, confidential and fun atmosphere where they can talk about mental health struggles, relationships, academic stress and much more. Find out more by emailing
peer.support@msvu.ca
or visiting the MSVUSU Wellness Centre (first floor Rosaria) on Mondays and Tuesdays between 7-9 p.m., and Wednesdays and Thursdays between 5-7 p.m.
Therapy Dog Program
The Mount was the first University in Atlantic Canada to implement a therapy dog program. Since 2011, Oscar the therapy dog has been bringing cuddles to the Mount community. You can visit Oscar regularly as he hosts Puppy Power Hour every Thursday from 2- 3 p.m. on the main floor of the Library.