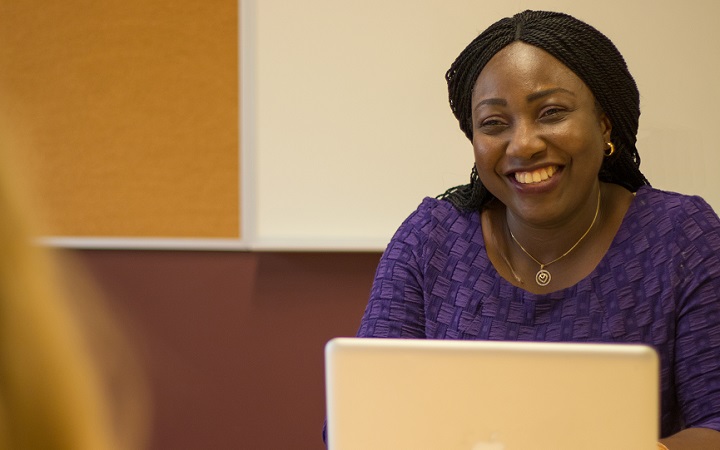 "I want to get to know my new country through my work."
---
Originally from the Oyo State in Nigeria, Bukky Shogbamu came to Canada with a Bachelor of Science degree in Health Studies and a Master's degree in Public Health. This year, she is part of the first cohort of students to be enrolled in the new Nonprofit Leadership Program at the Mount, and she brings to the classroom plenty of background working for a non-government organization in Nigeria.
When asked about her nonprofit experience and for her thoughts on the Mount's new program, Bukky was more than willing to share her story.
Q. What brought you to the Mount?
A. "When I came to Canada, I applied to work in the nonprofit sector, as I was volunteering and working in that field back home. I had great difficulty getting a job. I tried volunteering for a few new organizations, but nothing sparked my interest, and I knew I had to do something fast. I tried changing my career path to become a continuing care assistant, and it was through this change that I met someone who encouraged me to keep fighting for my dream job and never give up.
One day I was on my phone, and I saw a sponsored ad on Instagram for the new program at the Mount called Nonprofit Leadership. I instantly knew this was for me as it would allow me to continue in my chosen field. So I clicked the link and I was soon accepted!"
Q. Why did the Mount's program appeal to you?
A. "I want to continue to work in the nonprofit sector because helping others is my goal. To me it's rendering your service to all those who need your help. A nonprofit I worked with back in Nigeria supported young children and orphans affected by HIV/AIDS. It was while I was working within this nonprofit that I realized I love working with people and the Nonprofit Leadership Program helps me to continue to do what I love."
Q. Tell us more about your past non-profit sector work.
A. "When I was in Nigeria, I worked for the Association for Reproductive and Family Health (ARFH) where I was part of the state Household Economic Strengthening (HES) unit. In this role, I coordinated the processes that empowered chosen caregivers or household heads of vulnerable homes in the Local Government Areas where the project was implemented.
We worked with our clients in their households on budgets while exploring their business goals. Each house needed a variety of different things, there was no one-size-fits-all approach. Some of these caregivers who are with these households are later enrolled in skill acquisition programs and are given start-ups after their training, while some who already have trades they are doing are being given more products to boost their trade or business. This particular nonprofit job really touched my heart."
Q. What are your plans for your career in the nonprofit sector?
A. "My goal after school is to work for a nonprofit here in Nova Scotia. I want the full Canadian experience, and get to know my new country through my work. I realize it is very different from my previous work in Nigeria so I would be looking for a nonprofit that is going to show me a new experience. Ultimately, I would love to open my own charity focused on providing education, psychosocial, protection, nutrition and health services support for women and children."
Q. What advice would you give people considering the Nonprofit Leadership Program?
A. "If you are looking to help people, consider this program. You must have a passion for humanity and know that your hard work will pay off."