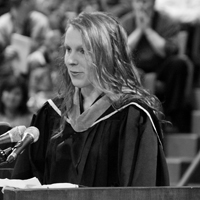 Perseverance and dedication are merely words until you see them put into action. Each year, Mount students are recognized for their high academic achievement and their involvement in school activities. Jennifer Tucker-Johnston is one of those unique individuals who was able to juggle both.
Jennifer graduated with a Bachelor of Business Administration with a major in Accounting.  A native of Sault Ste. Marie, Ontario, Jennifer moved to Truro Nova Scotia as a child where she grew up and lived until coming to the Mount. Graduating from the Nova Scotia Community College in 2007, she soon began working at Grant Thornton in Truro.
Jennifer's decision to attend the Mount was two-fold. "At the time I decided to further my education and complete my BBA, the Mount came highly recommended to me by several individuals in my office," says Jennifer. "Additionally the Mount had an excellent transfer arrangement from my previous education at the NSCC."
When Jennifer left her job as an Accountant she assured her superior that he would see her name on the 2009-2010 Dean's list. Not only did Jennifer attain that goal, but she was placed on the Dean's First Class Honours List and has been the proud recipient of two scholarships.
Jennifer was a Professional Studies Student Representative on the Student Representative Council, which involved her sitting on both Senate and Student Union meetings. During her time at the Mount, she was a strong member of the Business and Tourism Society, and was Vice President of Finance in her final year.
Although Jennifer has been involved in many different volunteer experiences at the Mount, she highlights her most memorable as a Student Ambassador. "There has been nothing that I have enjoyed more on campus than being able to give tours to prospective students," says Jennifer. "It has been a pleasure to be able to share the knowledge and experience I have gained during my time at the Mount."
Jennifer's future plans include starting the first module of the Atlantic School of Chartered Accountancy and will be returning to her previous employment at Grant Thornton as a Chartered Accountant student in September.
Hard-working and independent, Jennifer continues to draw inspiration from her husband, Michael Johnston. "Mike is one of the kindest and most giving people I have ever known," she says. "He has instilled a sense of compassion in me that I will keep forever."
Jennifer is motivated by a quote from American Business woman Mary Kay Ash. "According to the aerodynamics a bumblebee shouldn't be able to fly, but no one tells her, so she goes on flying anyway."
Jennifer is proof that when you fear nothing, there is nothing that you cannot achieve.
"Believe in yourself and believe in others," urged Jennifer. "You will be amazed at what someone can achieve if you just believe in them."