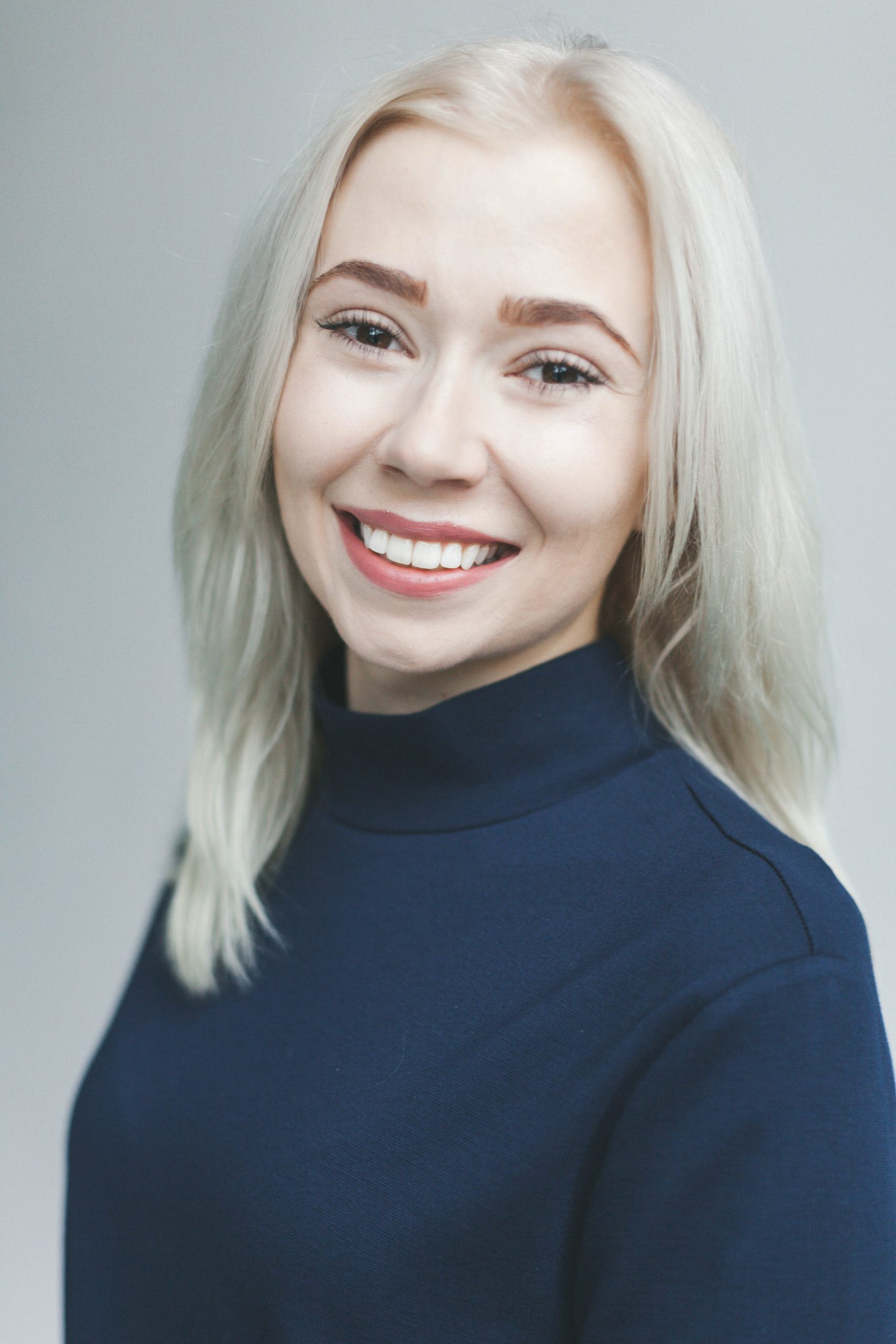 Everything about the Mount experience feels right to Ksenia Kholina.
As she wraps up her Bachelor of Science degree in Applied Human Nutrition (Dietetics) and begins her Master's, Ksenia is proud of the path she has chosen – or of the path that seems to have found her.
"I was shocked and flattered to receive the news," Ksenia notes. "It is an honour to be recognized by the foundation for doing work that I love." She was also recently named the recipient of a Mount scholarship, the Harvella Endowed Graduate Scholarship, which is awarded to a full-time student entering a thesis-based Master's degree program who has demonstrated outstanding academic excellence.
This summer, Ksenia worked as a Dietetic Intern with the Food Action Research Centre (or FoodARC) at the Mount. During her internship, she completed an evaluative study of
The Hand You're Dealt
– a knowledge translation-focused card game about food security – and examined research related to food marketing to children. "It is really interesting how social issues are interconnected with health and it gives me a great perspective for my future work," Ksenia notes about the internship.
She recently attended the 2018 Promoting Healthy Weights in Children conference held by the Heart and Stroke Foundation of New Brunswick, where she and other Applied Human Nutrition students from the Mount learned about the latest research on childhood obesity. She documented her experience for FoodArc –
read her blog entry here
.
Ksenia is also beginning work with her professor and mentor
Dr. Kyly Whitfield
, which will form the basis of her graduate research. Dr. Whitfield was the one to suggest graduate studies in nutrition to Ksenia, also inviting her to join in on her research efforts. "I was flattered that she saw something in me," Ksenia says. "I wasn't planning on doing a Master's, but when the opportunity was presented, I quickly knew I had found my passion." Ksenia's future academic plans now also include pursuing a PhD in nutrition. She is passionate about research and knowledge translation, and hopes to someday become a professor to inspire the next generation of researchers.
Ksenia will soon begin collaborations with Dr. Whitfield on a study about infant feeding. "I will be following Haligonian infants who are exclusively consuming human milk (both from the breast and a bottle) over the first six months, measuring milk intake and tracking their growth trajectories," she says. "Dr. Whitfield and I hope this work will help to better understand how babies here in Nova Scotia are actually fed, and whether how infants are fed (breast vs. bottle), and not just what they are fed, can influence growth and development."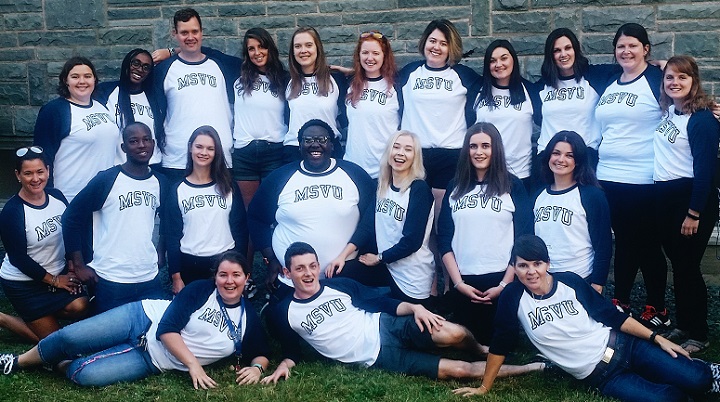 The Mount's 2018 Residence Life team — Ksenia is third from the right in the middle row.
A passion for prevention
Ksenia is no stranger to working in healthcare, and has long had a passion for helping others live their healthiest lives. Back home in St. Petersburg, Russia, Ksenia studied medicine and worked in clinical research at the Cardiovascular Unit of the Research Institute of Surgery and Emergency Medicine at the Pavlov First State Medical University. As she was finishing her term at the clinic (in 2016), she began wondering how she could transition her career focus from disease treatment to prevention. It was this change of focus that led Ksenia to pursue studies in Dietetics; it also led her half way around the world.
Ksenia first considered moving to Canada after hearing about the opportunities available in the country from a Canadian recruiter. Having never travelled to Canada, only to the United States several times, she began her journey by doing what she loves: researching.
"I googled Canadian nutrition programs and happened upon the Mount," Ksenia explains. "It felt right from my initial impression." After some back-and-forth over email with the Applied Human Nutrition department and Mount recruiters, Ksenia knew she had found where she was meant to be. "I felt supported at the Mount all the way from Russia," she notes. "I knew it was the right fit."
She made the move to Halifax in August of 2016, and hasn't looked back since. "I found my place here," Ksenia says of her transition to life at the Mount. "Everyone was willing to do everything they could to make me feel part of a community – from the International Education Centre and orientation to the Residence Life team and beyond."
Ksenia has embraced all that student life at the Mount has to offer. She is a part of several student societies and initiatives, including Meal Exchange, the International Society, the Wellness Centre, the Mount Community Garden and more.
She is an active part of Residence Life on campus too, having been a Resident Assistant to students in the international student residence (in the Birches) last year. This year she will re-join the Residence Life team serving as the Don for the Birches, overseeing a team of Resident Assistants and ensuring life in the residence is great for all students. She hopes to help make the Mount feel like home for incoming students the same way people helped her when she began her Mount journey. "This is such a welcoming community," she says. "It doesn't take long for the Mount to feel like home."
As Ksenia closes the chapter on her undergraduate degree and begins her Master's, she has this piece of advice for students starting out: "It starts with believing in yourself. And the people here will believe in you too."