Increasing collective understanding of the nutrition and food programming needs of those living with human immunodeficiency virus (HIV) and acquired immunodeficiency syndrome (AIDS) in Nova Scotia is the main aim of FoodNOW, an MSVU research and community outreach project led by two Registered Dietitians in the Department of Applied Human Nutrition, Dr. Phillip Joy and Dr. Shannan Grant.
Established in 2021, FoodNOW (Food to eNhance Our Wellness) is a two-year four-phased community needs assessment project based in Kjipuktuk (Halifax), Nova Scotia.  In 2021, Research Nova Scotia awarded Dr. Phillip Joy a New Health Investigators Grant (2021-2023), which funds FoodNOW. Dr. Shannan Grant is a Co-Principal Investigator on the application.
Needs Assessment in Focus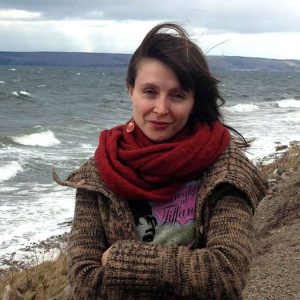 The FoodNOW team is composed of a diverse group of people, including three seasoned mentors or senior scientists (Dr. Patricia Williams, Dr. Mary Lynch, and Dr. Barbara Hamilton Hinch), several MSVU students, service providers, an anthropologist, and people living with HIV or AIDS. The combined experience of this group spans decades and diverse community settings (e.g., hospitals, public health, rural, urban, moderate to high-risk populations).
"The main aim of this project is to collect, share and discuss information on current nutrition and food programming available to people living with HIV and AIDS in Nova Scotia and Canada," said Dr. Grant.
She added that the project is rooted in community-identified questions and perspectives, and the combined experience of those involved in the research. "This project is participatory in that it involves several members of our community who are impacted by access to nutrition and food and associated resources, including people living with HIV and AIDs and those who provide support to them."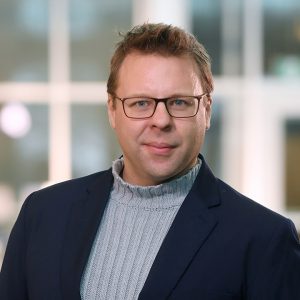 Examples of FoodNOW partners include: The AIDS Coalition of Nova Scotia, Pride Health, Healing Our Nations and the NS Advisory Commission on AIDS (NSACA). According to Michelle Proctor-Simms, Director of the NSACA, HIV and AIDS disproportionately affect populations more likely to experience economic inequities, social marginalization, stigma, lack of social support, and community connectedness.
While there is no single cure for HIV and AIDS, proper nutrition can play an essential role in helping to support the quality of life of those living with the virus. "People at higher risk of living with HIV and AIDS may experience food insecurity and lack access to nutritious food or special diets (what Dr. Grant also refers to special diets as Medical Nutrition Therapy)," said Michelle. "This impacts the ability of a person living with HIV to adhere to antiretroviral treatment for HIV and, thus, their ability to achieve an undetectable viral load."
Student Research Experience
Research Nova Scotia's funding also provided education and training opportunities for four MSVU students, including two graduate students and two undergraduate students, who are also Internship Education Program trainees (training to be Dietitians).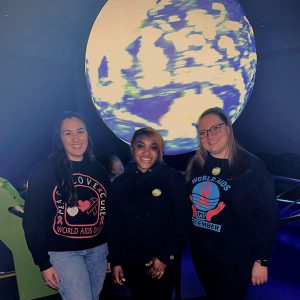 Gloria Chinonso Acholunu, a current Master of Science student from Nigeria, studying in the Department of Applied Human Nutrition, was a research assistant from May to December 2022. Gloria said she got involved in the project because of her passion for community development. "My research interest is to go deep into community programs for people living with HIV and AIDS," she said. "Back in my home country, not much is done for people living with HIV and AIDS."
Another student, Abigail Clarke, an undergraduate honours student and dietetic intern studying in the Department of Applied Human Nutrition, was a research assistant for the FoodNOW team until April 2022. She joined the project because of her interest in food insecurity and how food impacts people's lives.
"I worked as part of the FoodNOW team for a year, before moving on to dietetic internship. It was a great chance to collaborate and network with Applied Human Nutrition Department faculty, and gain invaluable quantitative and qualitative research experience", Abigail said.
Abigail became aware of the research project during her time working for Dr. Grant as part of the Student Works Program. Dr. Grant hired Abigail as Department of Applied Human Nutrition, Academic Program Director (2019-2022) when she was tasked with overseeing accreditation of the program. Dr. Grant said, "Abby provided key administrative support and had the opportunity to be trained on quality assurance methods. During this time it was clear to me she had great research potential. Prior to that I had not had the chance to work with Abby directly and I am grateful we were both given this opportunity to learn from one another." Abigail said the same, "Any students with extra time in their schedule looking to build their professional network should consider a Student Works position working with faculty at the Mount."
"Food is a critical part of living well, but that can look very different from one person to the next, depending on the resources they have access to and the conditions they're living with", Abigail continued. "I enjoy learning ways to support and advocate for the public as a nutrition researcher, using community-based approaches."
Impact of FoodNOW
As a community-based initiative, an aim of the FoodNOW project is to translate research findings into easy-to-communicate actionable points. "We want to provide the community and their supporters with evidence they can use to effect change, advocate for resources, and sustain and develop programs", said Dr. Grant.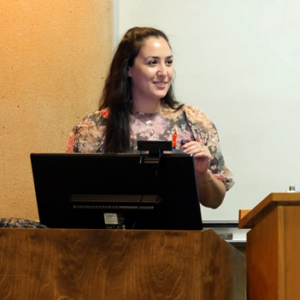 Additionally, Michelle describes the research as critical to "our understanding of how stigma, geographic location, and poverty create barriers to nutritious diets and supportive services" and that it will "inform policy and programming changes to increase food security."
Since FoodNOW started, the research team has identified several areas that researchers, services providers, and community activists can focus on addressing, including lack of consistent nutrition care and the inclusion of diverse voices from the community in decision-making. As part of FoodNOW's commitment to knowledge sharing, the project has also ensured each journal article they publish is publicly available. "This is very relevant to community-based service providers and advocates, as they are not always able to access such literature with ease", noted Dr. Grant. "This is yet another example of how research funding is key to facilitating informed choice and knowledge access for all".
Presently, FoodNOW is busy wrapping up the last phase of the project, ending April 2023. Looking to the future, the team is exploring co-developing education materials with the community. Several of the project's collaborators are also in discussions to continue the project beyond April 2023. One of the main concepts FoodNOW is considering exploring is a continued collaboration with The Food Action Research Centre, or FoodARC, Directed by FoodNOW mentor, Dr. Patricia Williams, "to adapt and implement interventions they've developed to spread awareness and empathy related to food insecurity and the impacts of poverty," said Dr. Grant.
Abigail noted that FoodNOW research has begun to fill gaps that will help us better understand the nutritional support needs of people living with HIV and AIDS in Nova Scotia.
"Often you will see initiatives for reducing and stopping the transmission of HIV, but more research and advocating for people living with HIV long-term is needed," Abigail said. "By using community-based approaches, researchers and service providers can take more effective steps towards advocating for the nutritional support needed for underserved demographics. My involvement with FoodNOW has deeply impacted me as a person, reinforcing my interest in research, and will impact how I practice as a Dietitian. I am grateful to those who made this project possible."
Want to learn more and help?
For those interested in learning more, the researchers encourage starting with self-directed education and volunteering in the community. "FoodNOW would like to challenge you to educate and activate", said Dr. Grant and Dr. Joy. "What we mean by this is, first commit to unlearning misinformation, learning what is and hearing first-voice, and explore ways you can get involved at the community level."
To learn more about the FoodNOW project or see the project's scientific publications, visit msvu.ca/foodnow or contact FoodNOW@msvu.ca.
You can also learn more by watching this video created by Research Nova Scotia.
Related Resources:
●     https://www.unaids.org/en/AIDS_SDGs
●     https://www.unaids.org/en/resources/909090
●     https://cihr-irsc.gc.ca/e/52951.html
●     https://www.canada.ca/content/dam/phac-aspc/documents/services/publications/diseases-conditions/summary-measuring-canada-progress-90-90-90-hiv-targets/hiv90-eng.pdf
●     https://www.international.gc.ca/world-monde/international_relations-relations_internationales/multilateral-multilateraux/unaids-onusida.aspx?lang=eng
●     https://www.catie.ca/the-epidemiology-of-hiv-in-canada
FoodNOW Questionnaire
The FoodNOW team has recently embarked on the final phase of their project: the FoodNOW Questionnaire. They are inviting those living with HIV or AIDS who are 19 years of age or older and currently live in Nova Scotia, or who have lived in Nova Scotia previously, to participate in the study. Questions focus on nutrition and food experiences and perspectives. The questionnaire takes about 25 to 35 minutes to complete and all participants will be given the chance to enter to win one of three cash prizes. Click here to complete the questionnaire.