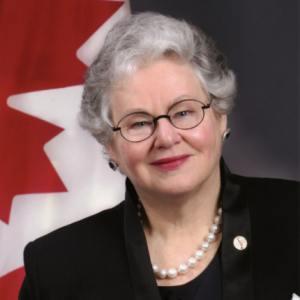 Nancy Ruth, CM, BA, MA, DipTh, DHumL, is the namesake of the Nancy's Chair at MSVU and a well-known feminist activist, philanthropist, and former Canadian Senator.
Endowed by Nancy, the Nancy's Chair at MSVU was established in 1986 to raise awareness of women's issues by bringing to campus distinguished scholars in women's studies and activists who have contributed to the advancement of women. More than 30 years later, the presence of the Chair continues to add substantially to the intellectual strength of women's studies at MSVU and in the Atlantic region.
The founder of several women's organizations in Canada, including the Canadian Women's Foundation, Nancy Ruth received an honorary degree from MSVU in 1989. She is also one of 18 women featured as part of the Inspiring Women installation in the McCain Centre at the university – the only building on a Canadian university campus dedicated to celebrating the accomplishments of women.
In 2010, while a Senator, she took up the torch to fight for a gender-neutral version of Canada's national anthem, O Canada – one that replaced "In all our sons command" with "In all of us command." Though her mandatory retirement came before Bill C-210: An Act to Amend the National Anthem was finally passed in 2018, Nancy Ruth's years long crusade was instrumental in making it happen.
Nancy Ruth's biography, The Unconventional Nancy Ruth, released in May of 2021, was authored by MSVU President Emerita Dr. Ramona Lumpkin, CM. Notes publisher Second Story Press, "Like Nancy herself, this book is rich in surprises and contradictions about a remarkable woman who used her privilege to support social change and the battle to better women's lives in Canada."
---
MSVU's history is rich with the stories of countless people who've had an impact on the university and in the broader community. Over the course of 2023, we'll feature mini stories about 150 MSVU students, faculty, staff and alum. Check back often to meet more amazing MSVU people!