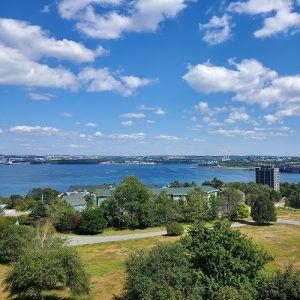 From the abundance of places around campus to find inspiration from nature, to our resident woodland friends, we take pride in our campus at Mount Saint Vincent University and work hard to make new strides in our sustainability efforts.
Though we have traditionally gathered to lead campus greening efforts each Earth Day (April 22), this year will look a little different. Still, our Facilities Management team has been hard at work these past many months maintaining our grounds and advancing environmental initiatives.
Here's a look at some of our green accomplishments, by the numbers:
Earth Day Sustainability Infographic (PDF)
We're also continually broadening our sustainability goals across campus with multiple initiatives. Here are just a few that we're working on:
Though the pandemic has paused this project, we are partnering with HRM's Waste Management Team on a comprehensive waste management program to reduce our environmental impact with improved sorting initiatives and continue to work towards a reduction in the consumption of single-use plastics on campus.
We've now installed 50 four-stream recycling stations throughout the campus, with stations found all across our main academic and administrative buildings with a few more to be installed soon.
We're continually working with suppliers on green cleaning initiatives and use environmentally certified cleaning products and systems. The vast majority of products used on campus are Green Seal or EcoLogo certified (sometimes both!).
We continue to work with our vendors to recycle their packaging when delivering goods on campus.
Thanks to an initiative spearheaded by Alexa Goucher (Facilities Management), we've begun to list surplus (old) furnishings in the classifieds on the MSVU intranet site and thus avoiding the landfill. Funds generated from this year's sale will be donated to the President's Student Relief Fund
And there's always more to be done! Ideas for sustainability improvements are always welcome.
---

We're ensuring operational excellence and sustainability. Learn more about this MSVU Strategic Plan Theme »