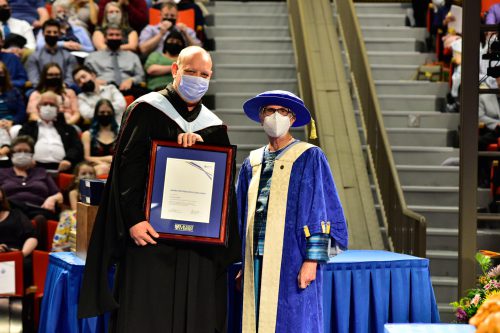 Dr. Zachary Zimmer has been named the 2022 winner of the university's Research Excellence Award. He was recognized during MSVU's spring convocation celebrations held May 19 and 20, 2022. The annual award recognizes contribution to the research community and to the research climate at MSVU. The award also serves to showcase the high level of scholarly research at the university.
Dr. Zimmer is a Professor in the Department of Family Studies and Gerontology, and Tier I Canada Research Chair and Director of the Global Aging and Community Initiative at MSVU.
Dr. Zimmer completed his PhD at the University of Michigan in the Department of Sociology with a specialization in social demography, health and aging, methods, and statistics. His dissertation titled "Educational Differentials in Functional Status of Older Adults in Three Asian Societies: Taiwan, Thailand, and the Philippines" was successfully defended in 1998. Dr. Zimmer also completed his MA in sociology at the University of Manitoba (his thesis explored "The Impact of Arms: A Study of Militarization in the Developing World" in 1989), and his BA in Sociology/Criminology at the University of Winnipeg in 1983.
Prior to joining MSVU, Dr. Zimmer was a Professor in the Department of Social and Behavioral Science in the School of Nursing at the University of California, San Francisco from 2011 until June 2016. He joined MSVU in July 2016.
Dr. Zimmer's program of research is interdisciplinary and lies at the intersection of Demography, Sociology and Gerontology.  His research is globally oriented and generally focuses on a variety of aspects of health and other indicators of well-being among older people worldwide.
Throughout his long and distinguished research career, Dr. Zimmer has been a highly productive and well-funded scholar with well over 100 peer-reviewed journal articles as well as 15 book chapters in edited volumes and over $10 million in research funding for his research program. It is not surprising that Dr. Zimmer has more than 6,000 citations of this work, an h-index of 40, and an i10 index of 91.
Since joining MSVU, Dr. Zimmer has continued to build and expand on a variety of national and international research partnerships that have advanced understanding in several specific areas of study including war experiences and the long-term impacts of war and related trauma on health and aging, the global demography of chronic pain, and the interconnection between religiosity, spirituality and older adult health.
Congratulations on this well-deserved recognition, Dr. Zimmer!