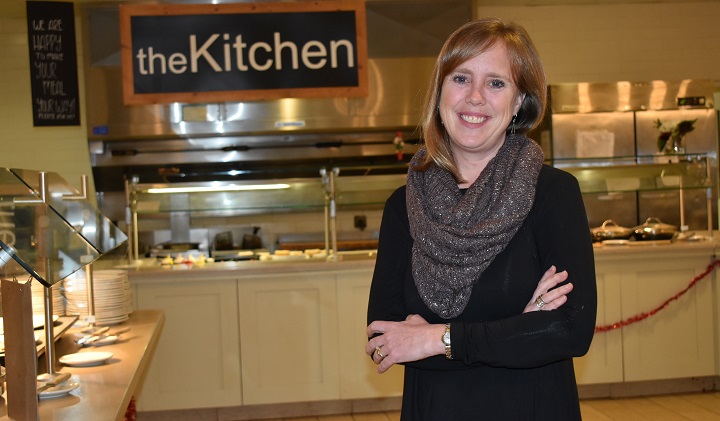 Mount professor's focus on experiential learning in tourism
Born and raised in Five Islands, Nova Scotia, Business & Tourism professor Paulette Cormier-MacBurnie has always enjoyed the close-knit community feel at the Mount.
Paulette's Mount story began in 1990 when she arrived on campus to study in the Bachelor of Science in Human Ecology program, now known as the Applied Human Nutrition program. She had experience working in the food and service industries and always had a passion for food and wellness. Her first job at the Mount followed – she began as a Lab Technician and then moved into a full-time Lab Instructor role, also teaching food safety and management courses part-time. It was through these experiences, that she discovered her love for teaching and learning. On her own educational journey, a certificate in Management Development for Women and a Master of Arts in Education (with a focus on Graduate Studies in Lifelong Learning) came next.
Paulette is keen to engage students in hands-on learning experiences: "I have always enjoyed teaching labs in our on-campus teaching kitchen and restaurant (Vincent's) because the learning curve is steep and I love to watch students' confidence build over the term."
Most recently, Paulette has started taking MBA courses to prepare her for a doctorate in Business Administration at Athabasca University. Last July, she was appointed Assistant Professor in the Mount's Department of Business & Tourism. Her background in food production management and nutrition coupled with her experience in the service industry make her an asset to the department.

---
"My students are the reason I come to work every day. I think that it is a privilege to be a part of people's learning experiences and it is so rewarding to see the students grow from one term to the next."
— Professor Paulette Cormier-MacBurnie
---
Taking learning beyond the classroom
Paulette is passionate about providing students the opportunity to put their learning into action. She was one of the creators of the Learning Passport Program within the Business & Tourism department, which is designed to connect students to valuable extracurricular activities at the University and in the broader community. She is also a key contributor to the annual Tourism Education Alliance of the Maritimes (TEAM) event. TEAM supports local tourism education programs and has partnered with the Mount to raise more than $168,000 in support of Mount students (as of 2018). Through the funds raised by TEAM, students have had access to exceptional learning resources, volunteer opportunities and educational tours in the tourism and hospitality sector.
"Experiential learning is really important to me," says Paulette. "I think this comes from my background working in Vincent's, our on-campus teaching kitchen and my own experience as a student. It's important to link the theory students learn in the classroom with industry practices, and I try to do this by bringing in guest speakers, taking students on tours and incorporating case studies. Students can see first-hand the types of opportunities that are available to them."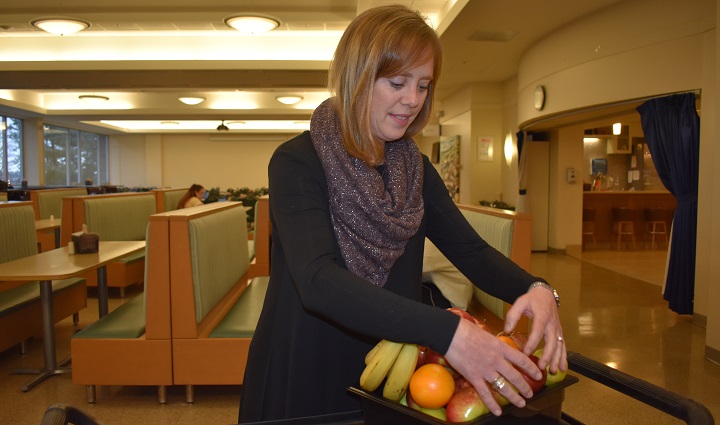 When asked why someone should consider studying Tourism and Hospitality Management, Paulette believes it all comes down to passion. "It is a service industry so it's important to have a passion for people and for the work you are doing. Within the tourism industry there are a lot of career options depending on your interests. There are hotels, restaurants, tour companies and more. This gives people options and diversity as they progress in their career."
As a proponent of experiential learning, Paulette highlights the Tourism program's mandatory co-op component as a key way to "test-drive" different career options. "The co-op work terms allow students to build their professional networks and to explore their career interests. I think our program gives students a good balance of theory and hands-on experience."
Research in workplace learning
Paulette's interest in experiential learning also extends to her research. During her Master's degree, she examined informal learning in restaurant kitchens. As part of this research, she interviewed chefs across the Halifax Regional Municipality to understand their learning processes within the workplace. This research was extended to a study titled Assessing Workplace Learning Effectiveness: A Preliminary Study of Professional Chefs. Paulette has brought knowledge from this research into the restaurant management courses she teaches. More recently, she has been working with colleagues to conduct research on bed and breakfasts and the links between reviewer ratings and quality-assessment ratings, ratings attributes, as well as owner responses and pricing.


When Paulette isn't teaching, she loves trying new foods and cooking (all part of staying on top of what's happening in the tourism and hospitality management sector). "I think learning about the industry and connecting with chefs makes trying new food even that much more enjoyable. The local food network here in the province is growing and I think it's valuable to know more about the people who are cooking and producing our food. I like that Culinary Tourism is a focus in Nova Scotia and that there's an increased focus on the importance of supporting local farmers and restaurants. Our culinary scene is unique and I think we have a lot to offer."
She also enjoys travelling (of course!), playing soccer and going home to Five Islands to visit her family and spend time at the beach.
From student to professor, the Mount is fortunate to have Paulette as a continued part of its community.