Mount students making waves in academics, athletics, leadership and more
As the 2018-2019 academic year draws to a close, the successes of the past many months are being celebrated across campus. Chief among these celebrations are events honouring outstanding student achievements in academics, athletics and leadership.
Academic achievement awards
On April 9th, students, faculty, staff, family and friends gathered to celebrate student academic excellence across all Mount programs.
The accomplishments celebrated included research ability, writing, and overall academic performance. However, as faculty members introduced student winners, they painted a picture of a group of students with diverse extra-curricular passions and commitments as well.
From co-op students of the year (
Ploynapas Jirarungroj
– Business Administration,
at left below
,
Elizabeth Duff
– Public Relations,
in the middle below,
Marissa Beckwith
– Tourism and Hospitality Management,
at right below
) to stand-out students in Math (
Avalon Campbell-Cousin
), Child & Youth Study (
Olivia Devine
), English (
Shawn Hunt
), Psychology (
Lauren Ross
) and many more, the list of student academic award winners is fittingly long –
please read it in full here
and
view photos from the event here
.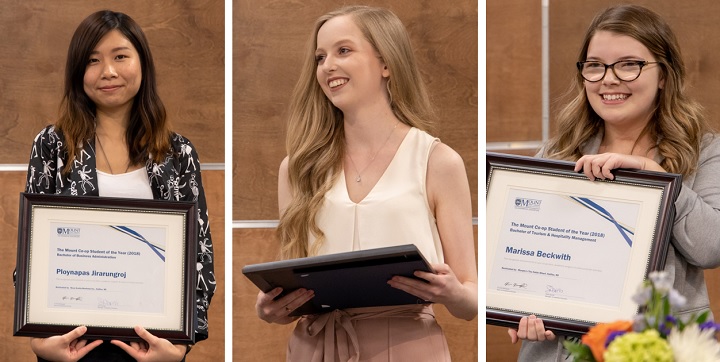 Student leadership awards
Emerging Leader Awards
The Emerging Leader and Emerging International Leader Awards recognize a student's significant and growing role in student life and governance. This year, Raf Peligro (at left below) and MD Ferdous Khan (at right) received those distinctions, respectively.
Patricia Butler Prize
Sebastian Gaskarth (at right below), was the recipient of the Patricia Butler Prize. Awarded annually by the Mount's President and Vice-Chancellor (Dr. Mary Bluechardt, at left below), the prize is presented to a student in good academic standing who has made a significant contribution to university governance at the Mount through service on committees and/or governance bodies.
Since becoming Coordinator of the Mount Students' Union Pride Centre in July 2018, Sebastian has been a driving force in making the Mount a more inclusive and welcoming space for 2SLGBTQIA+ students.
Sebastian has worked with Student Experience staff to launch the first Trans and Non-Binary Wellness Clinic at the Mount, create a website for 2SLGBTQIA+ students, and ensure that policies and processes that impact 2SLGBTQIA+ students at the Mount are comprehensive, streamlined, and communicated clearly. Sebastian currently sits on the University's newly formed 2SLGBTQIA+ committee.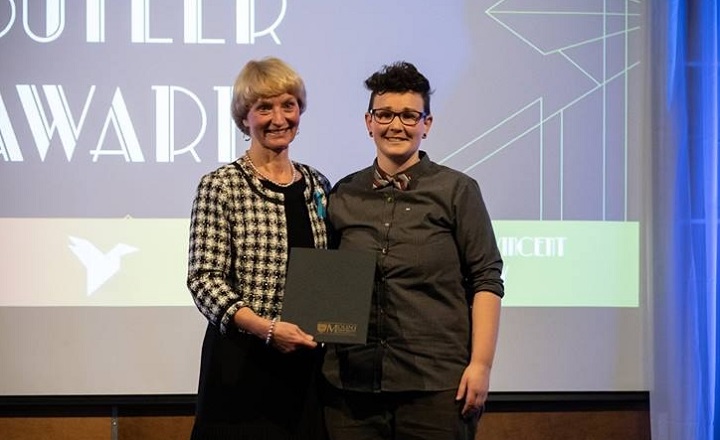 Philanthropy Award
Shelby Miller was celebrated for initiating a national campaign to raise awareness about sexual assault. Through Shelby's efforts, students and others across the country donned teal ribbons in the fall of 2018 to spotlight the issue and further important dialogue.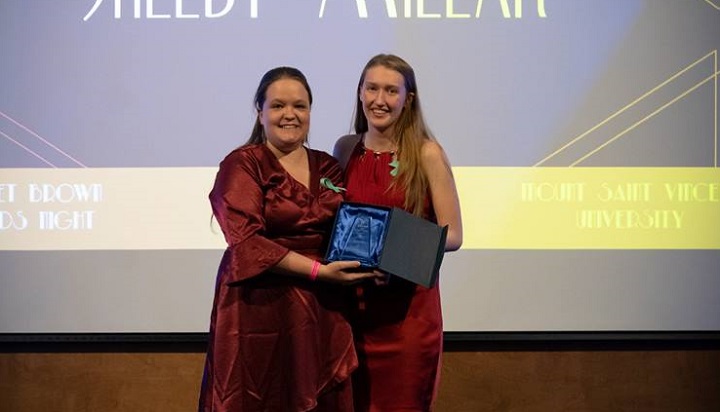 Athletics awards
This year, the Mount's women's basketball, volleyball and soccer teams were all champions of their respective ACAA series. The Mount's men's basketball and soccer teams both also had successful seasons which took them to the ACAA playoffs where they made it to semi-final play. As well, the Mount's cross country running team doubled in participant numbers this year. At the ACAA Championships our women's cross country team placed an impressive third place.
Fifteen Mount athletes were honoured as ACAA All Stars, with an additional five receiving the prestigious title of CCAA All-Canadian or CCAA Academic All-Canadian.
Female athletes of the year
Maria Carroll (Basketball — pictured below) – Originally from St. John's, NL, Maria had an incredible 2018/19 season. A graduating veteran of 5 years, Maria marked the end of her career by claiming some impressive accolades this year: Co-MVP of the Women's Basketball team, ACAA Women's Basketball Player of the Year, CCAA All-Canadian, and recipient of the CCAA Judy Smith Exemplary Leadership Award at nationals.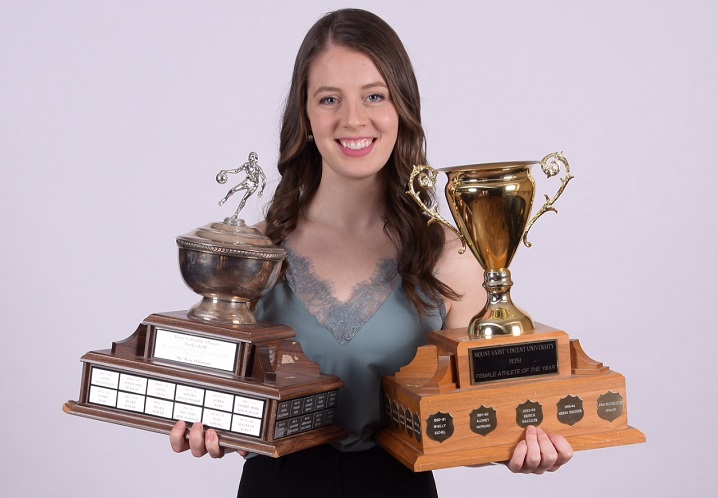 Madison Urquhart
(Volleyball —
pictured below
) – Madison came to the Mount 5 years ago from Sussex, NB and helped lead the Mystics Women's Volleyball team to their eighth consecutive ACAA Championship. Her incredible play earned her the Co-MVP award for the Women's Volleyball team, the ACAA Women's Volleyball Player of the Year title, and a spot on the CCAA All-Canadian team.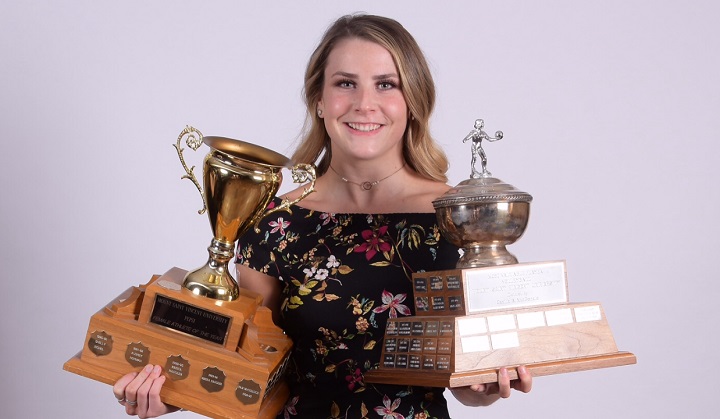 Male athlete of the year
Liam Mitchell
(Basketball — pictured below) – As a fourth-year from Halifax, NS, Liam captained the Mystics Men's Basketball team to a second place ACAA ranking. Liam was named the Mount Mystics Men's Basketball MVP and was named to the ACAA First Team All-Conference.