As the 2017-2018 academic year draws to a close, the successes of the past many months are being celebrated across campus. Chief among these celebrations are events honouring outstanding student achievements in academics, athletics and leadership.
Academic achievement awards
On April 4th, students, faculty, staff, family and friends gathered to celebrate student academic excellence across all Mount programs.
The accomplishments celebrated included research ability, writing, and overall academic performance. However, as faculty members introduced student winners, they painted a picture of a group of students with diverse extra-curricular passions and commitments as well.
From co-op students of the year (Evan Hollihan – Business Administration, Deandra Doyle – Public Relations, Daniel LeBlanc – Tourism and Hospitality Management) to stand-out students in Economics (Courntey Dader-Hartlen), Chemistry (Josh Lease), Gerontology (Deborah Leger), Women's Studies (Rae Boudreau) and many more, the list of student academic award winners is fittingly long –
please read it in full here.
Student leadership awards
On March 23rd, the Mount community gathered at the annual A. Garnet Brown Mount Saint Vincent University Students' Union Award Night Gala to honour students who've made outstanding contributions to student life and athletics. (
See the full list of award winners here
)
This year, the event recognized more than 60 students, plus three special student supporters. Students nominated Mount faculty and staff for the Exceptional Commitment to Students Award. Recipients included Joan Wilson and Wanda Parker, both staff with Chartwells (the University's food service provider), and Dr. Matthew MacLellan, a graduate of the Mount's Cultural Studies program who now teaches in Political Studies, Philosophy and Cultural Studies.
Emerging Leader awards
Each year, two students receive the Emerging Leader Award in recognition of their significant and growing roles in student life and governance. This year, Kenya Thompson and Yigeng "Cheega" Qi received the distinction.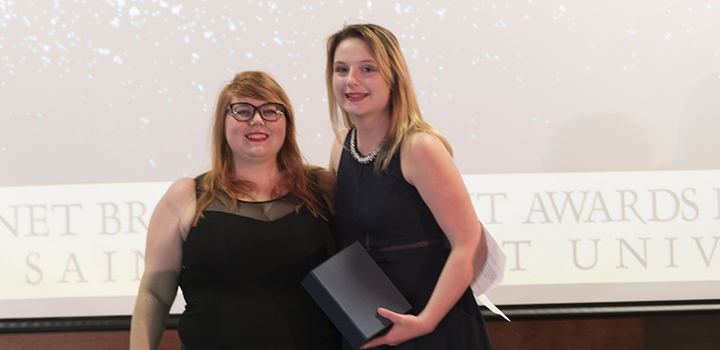 Kenya Thompson (pictured to the right) is presented with her award by Erin Murray, Mount student and VP Communications for the MSVU Students' Union.
As the Students' Union Elections Coordinator, second-year Public Policy student Kenya Thompson organized two Students' Representative Council elections while also taking on leadership roles in numerous student societies. Currently, she is working with students from across Nova Scotia to organize the upcoming Women in Politics: 100 Years of Progress conference taking place at the Mount on April 22nd.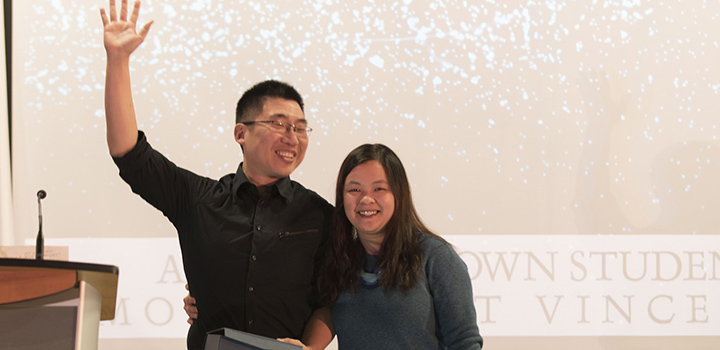 Cheega Qi (pictured to the left) receives his award from Kay Balite of the International Education Centre.
Yigeng "Cheega" Qi has quickly become a friend to many on campus, earning him the Emerging Leader Award for International Students. Cheega came to Canada as a mature and transfer student with a goal of continuing his degree in Tourism and Hospitality Management. Today, he is the incoming Mature Student Representative for the Students' Union Students Representative Council and a well-regarded contributor on campus.
Student life awards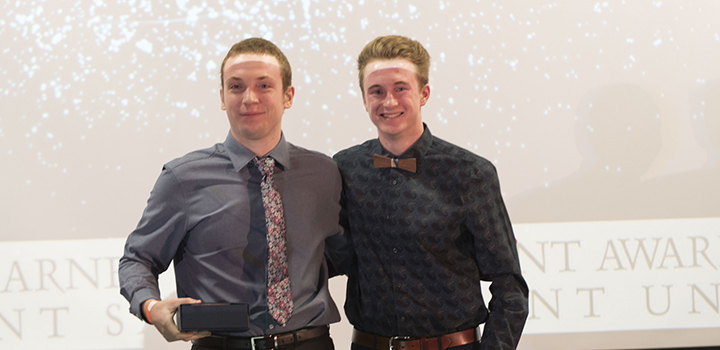 Ryan Barnes (pictured to the left) receives his award from Mount student Ethan Craig.
The Student Experience Award is rarely awarded to a first-year student, however, Ryan Barnes was an obviously deserving candidate according to nominator Julie Fillmore, the Mount's Disability Resource Facilitator. "We have all met some truly remarkable students over the years, some of whom you just know will make an invaluable mark in this world one day. Ryan is one of these people. In his short time here at the Mount, his charismatic and kind nature have already made an impact." Ryan was also the 2018 recipient of the Residence Spirit Award.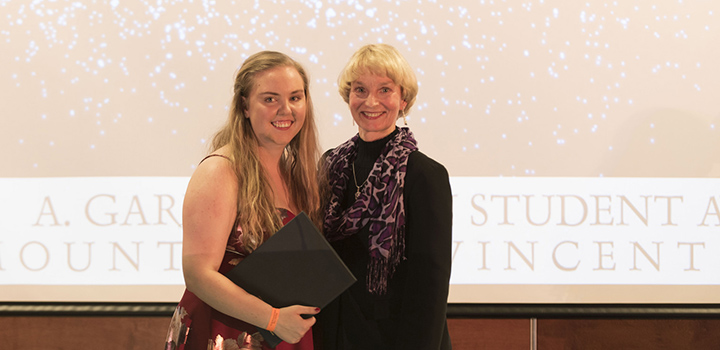 Alison Bryan (pictured to the left) poses with Dr. Mary Bluechardt, Mount President and Vice-Chancellor
Alison Bryan, 2017-2018 Students' Union Vice President of Student Life, was the recipient of the Patricia Butler Prize. The prize, which is awarded annually by the Mount's President and Vice-Chancellor, is presented to a student in good academic standing who has made a significant contribution to university governance at the Mount. Alison has sat on numerous university councils and committees, as well as served as a liaison between students and administration in her leadership role with the Students' Union.
Athletics awards
This year, success found every
Mystics team
. All teams qualified for playoffs, with the Women's Volleyball team claiming the ACAA title for the seventh consecutive year. Two teams participated in CCAA National Championships, with our Women's Basketball team placing fourth overall and Women's Volleyball team placing fifth overall. Sixteen athletes were honoured as ACAA All Stars, with an additional three receiving the prestigious title of CCAA All-Canadians.
Female athlete of the year
Kate Gallant (pictured to the right) poses with Mark Forward, the Mount's Athletics Officer.
Kate Gallant, Co-Captain of the Mystics Women's Basketball team, was named this year's Female Athlete of the Year. Finishing her fifth year of play with the Mount, Kate was this year named a CCAA All-Canadian and ACAA First Team All-Conference. "She is a captain, all-star, and dedicated student athlete," noted Director of Athletics June Lumsden. "She played her best games at the CCAA nationals this past year, able to match up with the best in the country."
Male athlete of the year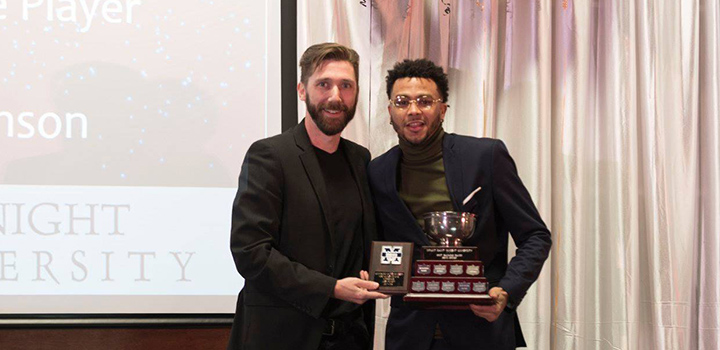 Jesse Thomson (pictured to the right) receives his award from Ian MacRae, the Mount Mystics men's basketball coach.
Jesse Thomson, Co-Captain of the Mystics Men's Soccer team, was named this year's Male Athlete of the Year. Finishing his third year of eligibility, Jesse was honoured this year as an ACAA First Team All-Conference. "His tenacity, effort and skill sets the tone for many of our matches," June noted. "He is a wonderful athlete, a solid student and a very bright young man who truly contributes significantly to his community."