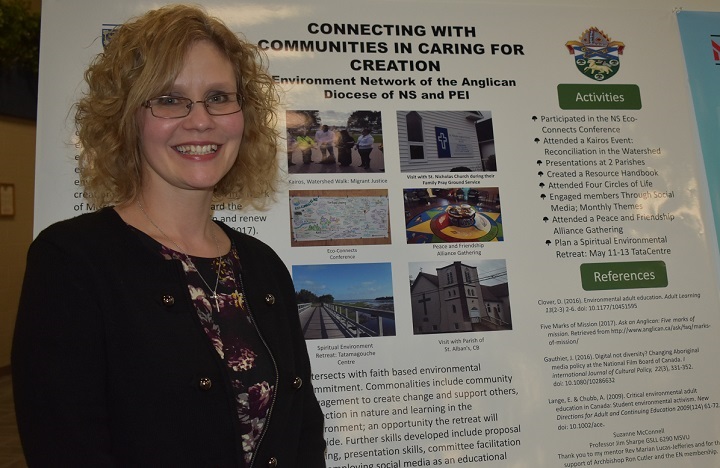 Meet Suzanne McConnell
Working full-time as a Director at the Regional Residential Services Society – a non-profit in Dartmouth, NS – Suzanne McConnell works closely with adults with intellectual disabilities in a variety of residential settings with an ultimate goal of helping them pursue their hopes and dreams. When she moved into a role that involved working with clients from different communities and greater responsibilities, Suzanne felt that pursuing her Master of Education degree in Lifelong Learning was the right next step. Students in the program engage with theories of how learning occurs, enhance their skills as teachers, program developers, and curriculum experts, and deepen their understanding of issues like diversity, inclusion, globalization, and evolving technologies. Suzanne started the program in January 2017 and plans to graduate in the fall of 2019.


"When I looked into the program and realized there were themes of community and opportunities for professional development, it felt like the right fit for me," she said. In addition to working full-time, Suzanne is an English as an Additional Language tutor at the Woodlawn Library, an active volunteer with her local church parish, and mom to a first-year university student. For these reasons, Suzanne was also attracted to the Mount program because of its flexibility.
"One of the best things about the program is that it is flexible. If you want to do it in a year, you can, and if you want to take your time, you can," she noted. "You can pace yourself and make it work for you. The professors have also been very supportive and I have appreciated this as I work full-time. It meant I did not have to give up other personal interests of mine."
Stepping out of her comfort zone
The Master of Education in Lifelong Learning at the Mount includes a practicum through which students apply their new knowledge in diverse settings.
This past fall, Suzanne completed her practicum with the Environmental Network, an initiative through the Anglican Diocese of Nova Scotia and Prince Edward Island. The aim of the network is to "encourage responsible environmental stewardship, give support and leadership to local initiatives to protect the environment and educate Anglicans as individuals and as communities to become better stewards of creation."
Suzanne saw this as an opportunity to step outside of her comfort zone and learn more about ways she could educate others in "caring for creation." After a few conversations with some professors and a phone call to her Reverend, Suzanne dove head first into her practicum by attending the Eco-Connects Conference, an event hosted by the NS Environmental Network which brings together environmental leaders from diverse sectors to explore future conservation efforts. She also travelled to parishes across the province to have discussions on how the network could better support them in being more environmentally conscious.
---
"I think that going through this program is a journey and it can be transformational if you have an open-mind."
–Suzanne McConnell on her experience as an MEd LL student
---
"I learned a lot about what the needs were within the different parishes. We talked about little things that could be done. For instance, using glasses instead of Styrofoam cups." These discussions helped Suzanne in developing a handbook, which provided information about being environmentally friendly, resources on being a "greener" church and information about grants. "I wanted it to be easy and visual. It is also online so it can updated as things change and grow."
In the second month of her practicum, Suzanne attended an event (hosted by the faith-based social justice organization KAIROS) titled "Reconciliation in our Watershed". The event started at the Canadian Museum of Immigration at Pier 21 in Halifax where a former migrant worker spoke about environmental injustice and how it relates to immigrant injustice.
"We end up dumping things into the water that feed into a watershed that then circulates into other places of the world. Migrant workers then come to Canada and their lives are impacted by their employer. Your status is tied to your employer, you are separated from your family and your children. When we have that many people coming through, and if we do not treat their needs well, that impacts all of what is around us. It affects our water, our earth, our food. Workers have to migrate here to support their families so it all plays together. Our overconsumption in North America is affecting other areas of the world. Most people think of the environment being about recycling but it is so much more than that."
Along the walk, Suzanne's group also heard from a Mi'kmaq water protector, Dorene Bernard, from whom she learned about protection efforts for the Shubenacadie River.
"The experience was very fitting with my practicum and my program. We talk a lot about learning in action and reflection in action. We were not in a traditional classroom setting, but we were learning so much through the stories that were being shared."
One of Suzanne's favorite components of her practicum was planning a spiritual retreat, titled "Pause to Listen" which will take place May 11-13 in the Tatamagouche area. The retreat will provide people who have an interest in environmental issues an opportunity to connect with nature in a more direct way. "We want people to come back from the retreat feeling rejuvenated, refreshed and ready to carry on in the work of caring for creation and for ourselves."
Although Suzanne's practicum officially ended this month she still plans on volunteering with the Environmental Network and continuing her work in the community. "We can all belong to several communities at one time. Humans are social by nature and if we are missing this in our lives, we are missing a sense of belonging. This can be a great travesty."
The importance of community
Fortunately, Suzanne has felt a sense of belonging within the Mount community. "From day one, I felt welcomed and supported. It has been a long time since I wrote a paper. The Resource Centre and the Writing Centre have been great resources. I received support in using AP for sourcing and references. There are so many resources available to students and they are helpful. The Mount is a community and it is progressive and diverse."
When asked what advice she would give to someone considering completing the MEd in Lifelong Learning, Suzanne replied, "I think that going through this program is a journey and it can be transformational if you have an open-mind. You get as much out of it as you put into it. It is a wonderful process if you can challenge your thinking, learning and allow yourself to be creative. It will lead you to an enriched life and open up opportunities. And you do not have to be a teacher to go into this program. I work in a not-for-profit and it has been highly valuable in my role."