Mount community dedicates a day to doing good deeds throughout Halifax.
The spirit of caring was alive and well on Wednesday, January 29, as students, faculty and staff recognized Caritas Day, the Mount's annual celebration of community goodwill. Over 100 students took advantage of a day without classes and braved winter weather in order to make a difference in the lives of others throughout Halifax.
While Caritas Day is based entirely around good deeds and positive change, its roots stem from a devastating fire that destroyed the Mount's only on-campus building in 1951. As the city's residents rallied to provide students safe spaces to sleep and study, the Sisters of Charity quickly established this day of caring to thank Haligonians for their support in a time of need.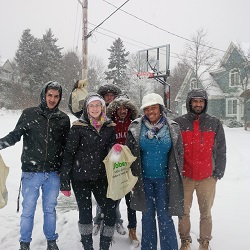 "We take great care to encourage a commitment to social justice within our students," says Dr. Peter Mombourquette, Chair of the Mount's Business and Tourism Departments, whose students have made a tradition of getting involved. "Caritas Day gives us the opportunity to step outside the classroom and remind each other of the difference we can make in just a few hours. We believe that's a crucial part of higher education."
One hundred Business Administration students and 20 faculty members took to the streets this year collecting food donations throughout Rockingham and Clayton Park. Meanwhile, 15 volunteers worked alongside the Sisters of Charity in a local soup kitchen and the Mount's Athletics and Recreation department stuffed an entire truck with donations for Feed Nova Scotia.
Even after all these years, Caritas Day continues to inspire new and creative ways for students to take up the charge. This year, Women and Gender Studies students volunteered their time with Stepping Stone, assisting in a major clean of the house, organizing donations, and preparing information packets for use in the organization's work to support and protect sex workers. English students also found a new way to encourage good deeds: accepting food donations in exchange for entry to a Lord of the Rings movie marathon.
As we look forward to Caritas Day 2015, the Mount's dedication to making a difference will be felt throughout the year as our students, faculty and staff continue to find new ways to say thank you.