A life dedicated to compassionate outreach
When she was young, Sister Evelyn Williams (shown below, at right, with Dr. Alexa McDonough) clearly remembers how the Sisters of Charity exhibited acts of kindness toward less fortunate children and students struggling with learning disabilities. Sister Evelyn knew she too wanted to dedicate her life to having compassion for others.
---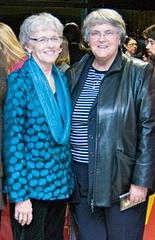 "A Sister of Charity is not necessarily someone who lives life through religion, it's about living life to help others."
The Sisters of Charity call this spirit of living life for others "charism" and it has had an overwhelming impact on Evelyn's life, "I have evaluated many times, but I have never looked back," she says about her decision to become a Sister.
"Your commitment grows and expands. The reasons I entered the sisterhood are still the same, but I have new reasons as to why I stay."
Following her transition into the Sisters of Charity at the age of 18, the effort to help women in need is what remains closest to Sister Evelyn's heart. Currently volunteering her time with women coming out of prison following 10 years working as a probation officer, Sister Evelyn strongly believes that everyone needs people who care in their lives, "It is sometimes the smallest of efforts that foster the change in these women, and allows them to take control of their own life."
With a passion for helping women, it seemed a natural transition for Sister Evelyn to take on the role of Chaplain of Our Lady of Wisdom Chapel at Mount Saint Vincent University. An institution known for its commitment to the advancement of women, Sister Evelyn found a perfect fit at the hilltop campus. In the five years she spent as Chaplain, Sister Evelyn became highly involved in the Mount's charity efforts, especially Caritas day.
A historical milestone: The founding of Caritas Day
Founded by the Sisters of Charity, Caritas Day was started after a fire devastated the campus in 1951. The community was so helpful to open their doors to students and staff that the Sisters established Caritas Day, an annual day of caring, to remember the tremendous acts of kindness bestowed upon them.
The goal of Caritas day is to mirror Saint Vincent by devoting a day entirely to community outreach. "When I was a Mount student, Caritas day was more so a religious celebration of the spirit. Today, we are following Saint Vincent's footsteps and actively reaching out to the less fortunate."
Currently working at the Seton Spirituality Centre, Sister Evelyn is pleased to see that students across the Mount campus are still involved in a variety of activities that support Caritas Day including food and blanket drives and raising money to help those in need. Sister Evelyn believes that the student body at the Mount is continuing to encompass the values of Saint Vincent himself.
---
A special thank you to Mount Public Relations student and student ambassador Lucy Fisher for her contributions to the article above.