Presentation to cap busy week for Dr. Barbara Orser
Being female is an asset in the business world, an asset called "feminine capital". That's according to Dr. Barbara Orser, this year's visiting lecturer in the Nancy's Chair lecture series.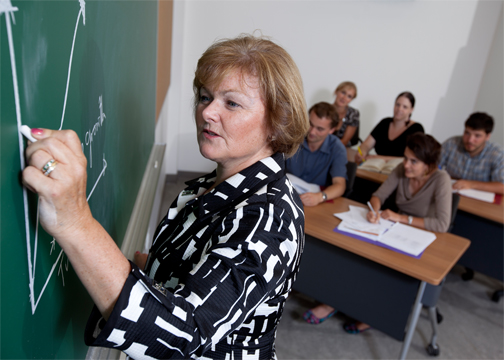 "Feminine capital is an aggregation of ways of knowing, expectations and behavior. It is individual and collective," says Dr. Orser.
"In conversations with thousands of managers and entrepreneurs, we are learning that women embrace a continuum of perspectives about how being female impacts the way they do business." Dr. Orser's research celebrates being female by capturing that which is great, as well as challenging, about being female in the business world. She says that feminine capital is already transforming the way we do business.
"At no time in history have women been so engaged in business ownership. Millions of entrepreneurial women are creating jobs, products and services and investing earnings back into their families, firms and communities. Across North America, women retain a share of ownership in up to half of all small businesses. For many women, business ownership is seen as a mechanism to create economic self-sufficiency and opportunity for others."
Dr. Orser will be visiting the Mount during the week of February 3-7. During her visit, she looks forward to sharing her research with students, faculty and staff. She'll also be meeting with the Centre for Women in Business. Her time will be capped by a public lecture on February 7th called Feminine Capital: How women are creating wealth and social change.
"Dr. Orser's focus on women as entrepreneurs and leaders is a perfect fit for the Mount's mission and goals," says Wendy Doyle, Professor in the Mount's Business Administration and Tourism program, and a recent Nancy's Chair committee member. "We look forward to an interesting and thought-provoking public lecture and opportunities for Dr. Orser to discuss her research."
A noted scholar, Dr. Orser is a Full Professor and the Deloitte Professor in Management of Growth Enterprises at the Telfer School of Management at the University of Ottawa. She has co-authored two books in small business finance, led numerous large-scale studies about enterprise growth and has been published in over 100 academic and trade journals. Among her many honours, Dr. Orser was recognized by the Women's Executive Network as a 100 Most Powerful Women in Canada (Champion Category) and the International Alliance of Women World of Difference 100 Awards.
The Nancy's Chair lecture will take place at 7 p.m. on February 7 in the Seton Academic Centre, Auditorium A, with reception to follow. Members of the public are invited to attend the lecture and may RSVP by contacting Mary Lou O'Hara at mary.lou.ohara@msvu.ca.