To the MSVU community,
I am writing to share the news that Sara Knight has been appointed Governance Secretary and General Counsel at Mount Saint Vincent University. She will begin in the role on July 3, 2023.
Sara brings to MSVU extensive governance and legal experience, and demonstrates an appreciation for the unique attributes of a bicameral governance system. An insightful leader and strong relationship builder, MSVU will also benefit from her commitment to advancing equity, diversity, inclusion and accessibility.
About Sara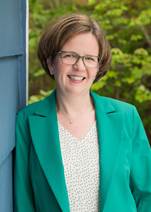 Sara has been a practicing member of the Nova Scotia Barristers' Society for 18 years and is currently a Senior Solicitor with the Halifax Regional Municipality. In that capacity she has advised Regional Council and its committees, senior municipal leaders, and municipal business units on legal matters (including policy development). Her practice areas of focus have included Access and Privacy, and Governance.
During a secondment from her role with HRM, Sara worked with the Nova Scotia Department of Business as a Policy Strategist and Acting Director of Policy. She holds a Bachelor of Laws from Dalhousie University and a Bachelor of Arts in History (Honours) from Queen's University.
About her role
Reporting to the President and Vice-Chancellor and working closely with the Chair of the Board, Sara will provide leadership related to the university's bicameral system of governance, including serving as primary liaison between and among the governing bodies and other university constituents. She will support university policy and procedure development and implementation, as well as provide advice on matters requiring legal input.
Sincere thanks to all members of the selection committee for their commitment to this hiring process.
Please join me in welcoming Sara to MSVU!
Joël
Dr. Joël Dickinson
President and Vice-Chancellor
Mount Saint Vincent University