Ideas worth spreading: TEDx comes to MSVU on February 12, 2015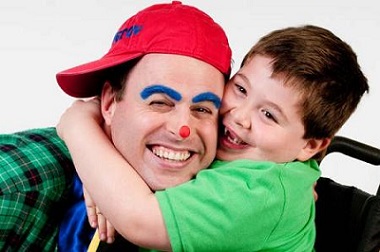 It's often said that children who have been hospitalized for long periods or who have endured significant illness are wise beyond their years. Cleve Sauer, aka Buddington, certainly thinks so – in fact, he's made friends with many of these young patients through his work as a therapeutic clown at the IWK Health Centre, and at TEDxMSVU coming up on Thursday, February 12, he'll share some of the most important lessons he's learned. This is Sauer's first TED talk, and an opportunity he's excited to embrace as a means of sharing what he's learned through his very unique experience in pediatric health care.

"The TED series is a wonderful means of getting inside someone else's world for a few minutes. What I do and how I work with children, youth and families is unique and they have had a significant impact on me," said Sauer. "I'm thrilled to have this opportunity to share some of that with TEDxMSVU attendees."
From 4 p.m. to 7 p.m. on Thursday, February 12th, TEDxMSVU will explore the theme of Embracing Possibilities, featuring some much anticipated and highly-regarded speakers in addition to Sauer, including:
· Wanda Thomas Bernard, Dalhousie School of Social Work – Recently appointed chairwoman of the Nova Scotia Advisory Council on the Status of Women and named a member of the Order of Nova Scotia.
· Bette Watson-Borg, President and CEO, YMCA of Greater Halifax/Dartmouth – Leading plans to build a new 70,000 square foot YMCA in Halifax to open in 2018.
· Andy Fillmore, Vice President, Waterfront Development Corporation – Urban planner and recently designatedLiberal candidate for Halifax in the next Federal election.
· Allison Garber, Owner, Allison Garber Communications – And advocate for increased access to early intensive behavioural intervention for children with autism like her son Hugh.
· Craig Smith, Member of the Royal Canadian Mounted Police – And author, educator and leader; Smith was the recipient of a Nova Scotia human rights award in December of 2014.
· Janean Marshall, Student Services Consultant, Mi'kmaw Kina'matnewey – Valedictorian at the Mount's fall 2014 convocation ceremony.
· Donovan Plumb, Coordinator of the Teaching and Learning Centre, Mount Saint Vincent University – Professor at the Mount with a focus on adult education and interest in the nature of human learning and our human capacity for "deep learning."
Unfortunately, Mayor Mike Savage is no longer able to be a part of TEDxMSVU due to unforeseen circumstances.

There are still some tickets left, but they are selling quickly. Tickets are $15 (general admission) or $10 with a Student ID and must be purchased in advance. They are available in the Mount Business and Tourism office (Seton Annex 5) or at Evenbrite.ca. For more information, including speaker bios, event location details, etc, visit www.msvu.ca/tedxmsvu.

About TEDx
In the spirit of ideas worth spreading, TEDx is a program of local, self-organized events that bring people together to share a TED-like experience. At a TEDx event, TEDTalks video and live speakers combine to spark deep discussion and connection in a small group. These local, self-organized events are branded TEDx, where x = independently organized TED event. The TED Conference provides general guidance for the TEDx program, but individual TEDx events are self-organized.