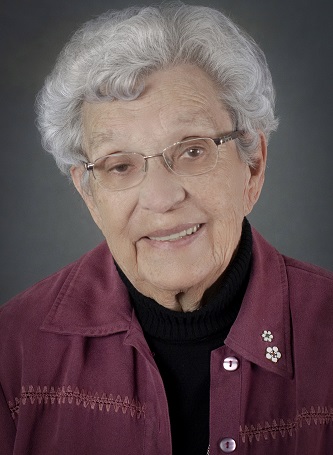 Sister Dorothy Moore, CM, ONS, BA, BEd, MEd, DHumL, is an esteemed Mi'kmaw Elder, advocate, and educator, and member of the Congregation of St. Martha, who has worked for decades to support and empower Indigenous people in Nova Scotia and beyond. She is a former member of the Board of Governors at MSVU and has been a valued advisor to the university on Indigenous matters. Sister Dorothy received an honorary degree from MSVU in 2002 and is celebrated on the university's Women's Wall of Honour.
Sister Dorothy was born in 1933 in Membertou, a Mi'kmaw community near Sydney, Nova Scotia. In 1954, she became the first Mi'kmaw person to enter the Sisters of St. Martha, making her vows in 1956.
She started her career in education as an elementary school teacher in Nova Scotia's public school system. From 1985 to 1995, she taught at the (then) University College of Cape Breton and was instrumental in creating their Mi'kmaw Studies program. In addition, she was appointed Director of Mi'kmaq Services for the Nova Scotia Department of Education.
Over the course of her life, she has been a powerful voice in the preservation, promotion, and protection of Mi'kmaw language and culture. As a member of the Nova Scotia Human Rights Commission and the Aboriginal Rights Commission, she advocated for the rights of Indigenous people, particularly in education. Sister Dorothy has been the recipient of many awards for her work, including the Order of Nova Scotia and the Order of Canada.
Sister Dorothy's life and career have been the subject of a book and documentary, gathered and co-produced, respectively, by Dr. Mary Jane Harkins in the Faculty of Education at MSVU. Sister Dorothy was present when Dr. Ramona Lumpkin led a ceremony of apology and commitment to Indigenous Peoples on behalf of MSVU for the university's role in the tragedy of residential schools in Canada. The Sisters of Charity Halifax, the founders and previous owners of MSVU, had members who staffed the Shubenacadie Residential School in Nova Scotia, which was open from 1930 to 1967, and St. Eugene's Residential School in British Columbia, which was open from 1890 to 1970.
A champion of the Mi'kmaw Nation, Sister Dorothy continues to strive for change, and her contributions to education and Indigenous ways of knowing have left a lasting legacy. To this day, she continues to be a beloved friend and advisor to the MSVU community.
---
MSVU's history is rich with the stories of countless people who've had an impact on the university and in the broader community.
Over the course of 2023, we'll feature mini stories about 150 MSVU students, faculty, staff and alum. Check back often to meet more amazing MSVU people!