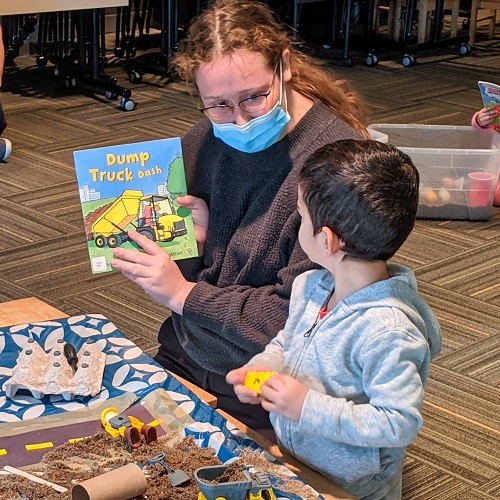 Tucked away in a quiet corner of the MSVU campus sits a gem of a facility: the MSVU Child Study Centre (CSC). The Centre provides family-focused play-based care to preschool-aged children. Many children of MSVU students, faculty and staff attend the centre, as do children of broader community members.
Just steps up the hill from the CSC sits the MSVU Child and Youth Study Department. MSVU is the only Atlantic Canadian University to offer Child and Youth Study programs at the undergraduate & graduate levels. Having the Child Study Centre onsite provides placement opportunities and other applied learning and research experiences for those students that are also of great benefit to the children.
Late last semester, the Child and Youth Study program collaborated with the Child Study Centre at MSVU to offer students and children a unique learning opportunity.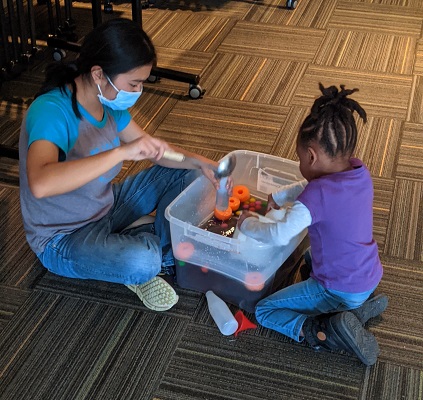 Third-year Child and Youth Study students created special play experiences for children from the Child Study Centre as part of their CHYS 3314: Play and Development: Infancy through Early Childhood course. The project focused on play opportunities that supported children's imagination, exploration, creativity, and problem-solving. The special benefit of being closely connected to a child care centre like on the MSVU campus is that the students not only designed their play experiences but they were also able to share them with the children.
"The goal of this assignment was to design and create play experiences for young children based on theory and research that was discussed in class throughout the semester," said Dr. Jamie Leach, an Assistant Professor in Child and Youth Study, the assignment creator.
"This assignment is unique because it is experiential learning, which (I believe) is essential for professional degrees," Dr. Leach explained. "Students have the opportunity to see the direct impact of their thoughtful and intentional work and reflect on their experience in terms of their curriculum decision-making."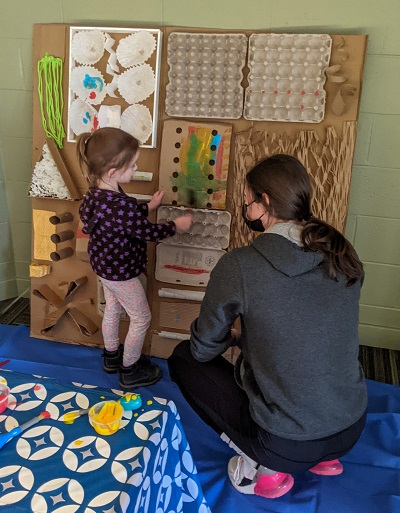 Some of the play experiences created by the MSVU students included inviting children to explore light, shadow and reflection by shining a projector and sunset lamp on a wall, then placing colourful translucent blocks on top of mirrors. Another play experience focused on trajectory, which included dipping toy cars into paint and rolling them down a cardboard ramp lined with paper to create a colourful art piece of mixed paints and textures.
The hands-on project was one of the many beneficial educational opportunities for Child and Youth Study students to garner practical learning experience and collaborate with professional educators and children from the MSVU Child Study Centre.
"The Child Study Centre is a place where students can see theory put into practice," said Anette Comeau, Director of the Child Study Centre. "At the centre, students can not only see children in a preschool environment, but they can also see highly trained and experienced educators working with those children."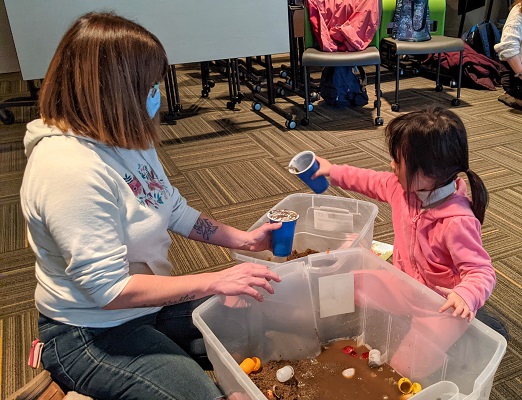 Child and Youth student El Welsh said the assignment was very beneficial to their learning process. "What I liked was that it was an active assignment. We weren't just writing, but also got to partake in our learning with the children," El said. "Overall, this was a phenomenal experience! I really enjoyed working with my group and getting to facilitate this activity with the children."
Madilyn Rondeau, another student in the Child and Youth Study program, said that she was excited to get her degree in the Child and Youth study program after hearing about the practical experience students received by working with the children from the Child Study Centre.
"I think the overall experience was one that was super important to our educational goals as child and youth workers," she said. "It really gave me the opportunity to take that classroom knowledge and experience what I have learned in a professional setting."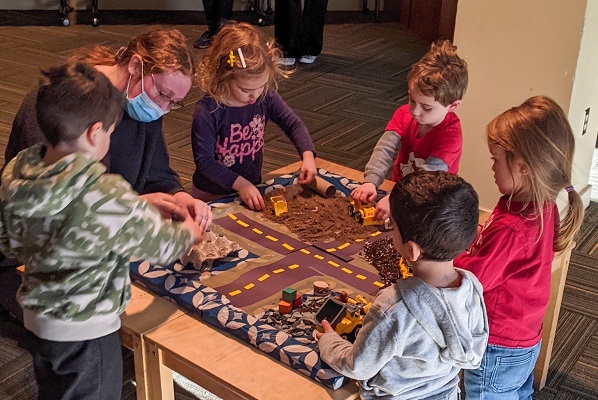 Madilyn also expressed how happy she was to work with the children and learn from experienced educators. "It was fun and exciting to see the children enjoy our activities. Chatting with some of the early childhood educators that work in our university centre was also very valuable."
According to Dr. Leach, the project was an excellent experience for both students and children alike. "This was also an opportunity to expand the Child Study Centre's playroom walls to the broader MSVU community and bring those new experiences back into their playroom," said Dr. Leach. "Children are citizens and contributing members of our local and broader communities and it is important that they are seen, heard, and included in the community."