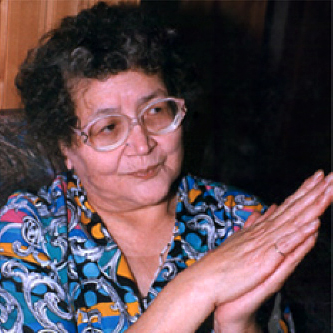 In Nova Scotia, the third Monday in February is a holiday called Heritage Day. Each year, the day honours a remarkable person, place or event that has contributed to the province's unique heritage.
This year (2023), NS Heritage Day celebrates the Honorable Rita Joe, CM, PC, LLD, DHumL. Elder Rita Joe held an honorary doctorate from MSVU (1998) and is one of the women featured on the 18 Inspiring Women installation in the Margaret Norrie McCain Centre on campus.
Rita Joe was from the We'koqma'q Mi'kmaq Community and was a poet who wrote powerful poetry about Indigenous identity and the legacy of residential schools in Canada. She wrote seven books, including Poems of Rita Joe (1978), Song of Eskasoni (1988) and The Blind Man's Eyes (published posthumously in 2015). Her works continue to influence Indigenous and non-Indigenous writers and artists alike – and her words of wisdom have had a great breadth of impact. In 1989, Rita Joe was inducted into the Order of Canada. In 1992, she became a member of the Queen's Privy Council. She received an Aboriginal Achievement Award in 1997 and held doctorates from several East Coast universities.
---
MSVU's history is rich with the stories of countless people who've had an impact on the university and in the broader community.
Over the course of 2023, we'll feature mini stories about 150 MSVU students, faculty, staff and alum. Check back often to meet more amazing MSVU people!