During Mount Saint Vincent University's spring 2023 convocation ceremonies, Dr. Brook Taylor, Interim Vice-President Academic and Provost, announced the newest recipients of the President and Vice-Presidents' Advanced Career Teaching Award, the Alumni Early Career Teaching Award, and the Alumni Part-Time Teaching Award.
The awards were presented to Dr. Michelle Eskritt of the Department of Psychology, Professor Lindsay Leighton of the Faculty of Education and Professor Chandarrao (Kelly) Kale of the Department of Applied Human Nutrition, respectively.
The awards were established to recognize teaching excellence at every level, including senior and junior full-time and part-time faculty. They reflect MSVU's strong commitment to leadership in teaching and learning.
The President and Vice-Presidents' Advanced Career Teaching Award: Dr. Michelle Eskritt, Psychology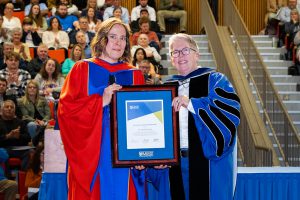 As an innovative educator and pedagogical leader in both the physical classroom and online learning spaces, Dr. Eskritt's best practices in teaching are widely appreciated by her students and respected by her colleagues. She has developed several online courses and pioneered the use of blended learning courses that incorporate both asynchronous and synchronous content to maximize the benefits of each – an approach that has been popular among students. Her enthusiasm and passion for teaching are apparent to her students; she goes above and beyond to incorporate student feedback into the learning process.
Dr. Eskritt's creative and innovative curriculum design has been instrumental in developing the Psychology department's online presence, including working with the Teaching and Learning Centre to develop courses to enable the completion of a bachelor's degree in psychology entirely online. Her significant impact on teaching and learning is felt across MSVU, with many benefitting from her strategic vision and generosity in giving of her time and expertise.
The Alumni Early Career Teaching Award: Professor Lindsay Leighton, Education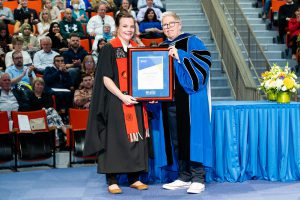 As an educator, Professor Lindsay Leighton integrates best practices to implement instruction that leans equally on the art and science of teaching while providing a supportive, practical and unique learning experience for her students. Her students appreciate her approach to education as she fosters their curiosity by tailoring the subject matter to their areas of inquiry.
Professor Leighton's emphasis on fostering student curiosity has motivated her students to delve deeply into subject matter areas, exploring topics both inside and outside the classroom and spurring conversation and personal reflection. By creating "the trust tree" within her student cohorts, she has created a collaborative and safe learning environment for her students as they navigate course materials. Her courses are meticulously planned and provide students with the skills, guidance and motivation they need to succeed after graduation.
The Alumni Part-Time Teaching Award: Professor Chandarrao (Kelly) Kale, Applied Human Nutrition
Professor Chandarrao "Kelly" Kale is referred to as an "icon" by his students for his humour and memorable teaching style which have motivated numerous students throughout his years at MSVU. His ability to explain complex topics in plain language is valued by students, with many noting how his use of real-life examples and a few jokes make his courses a memorable experience. The encouragement, support and mentorship he gives his students goes beyond the classroom daily. He is a wealth of knowledge, having spent over 40 years conducting research and development within the food industry before joining MSVU.
In describing his approach to teaching, Professor Kale notes his commitment to lifelong learning, experiential learning and compassion. His peers note that he is a dedicated educator who thrives on student interaction, new knowledge and innovative research.
Congratulations, Dr. Eskritt, Professor Leighton and Professor Kale!