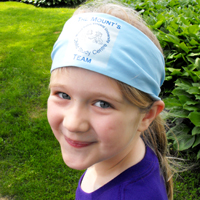 The Mount's Child Study Centre is licensed by the Nova Scotia Department of Community Services to provide full- and part-day child care on campus to children ages two to five.  Staffed by professionals with specialization in early childhood education, the Child Study Centre serves as a model training facility for students in the Bachelor of Arts (Child and Youth Study) degree program, providing the opportunity for observation and research related to early childhood and child development and serving as a resource for the community.
But on June 18, the Mount's Child Study Centre served the community in a different way.  Staff, children and family members from the Child Study Centre participated in the Walk the Walk for Autism, Nova Scotia's second annual awareness walk for autism. Participants walked along the Halifax North Commons with a choice of a 1k or 5k walk route and enjoyed fun family activities paired with a wrap-up barbeque.
"For many years we have had children with autism enrolled at the Child Study Centre," says Debbie Armstrong, Director of the Child Study Centre at the Mount. "We support our families in any way that we can and have made it a priority to have staff trained to meet the needs of children with autism. Because of this, we decided to extend our commitment by fundraising and participating in this year's walk."
The team surpassed their initial fundraising goal of $500, raising a total of $2,004. The Centre will receive a plaque from the Provincial Autism Centre for their fundraising efforts.
"I believe that this has been a great learning experience for the children involved," says Debbie. "Within our inclusive program, they have learned about respect and acceptance. This experience allowed families and professionals to come together to support a great cause. Many parents, both past and present, supported the centre by donating to the team or walking with us."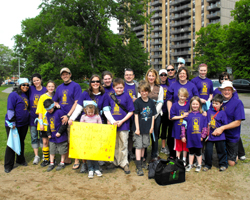 ---
Participants in the Mount's Child Study Centre team included: Erin Dooley (captain), Virginia MacNeil, Ashley Pelley, Marilyn Sturgeon, Hunter Ashley, Nicole Ashley, Kevin Ashley, Ron Fox, Summer Fox, Jackson Fox, Rachelle Fox, Thomas Strang, Stephanie Strang, Alex Strang, Emma Strang, Robert Strang, Parker Cooley, Sam Fowlie, Emma Fowlie, Matthew Fowlie, Stephanie Blucher, Jack Blucker , Sophie Blucker and Daniel Tonge.

---