Mount Saint Vincent University President's Visiting Lecture Series to host Aisha Haque
Mount Saint Vincent University is pleased to host Aisha Haque, sought-after speaker and expert on inclusive teaching practices, for the 2021 edition of the President's Visiting Lecture Series on Teaching and Learning.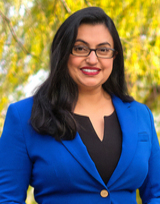 In her session "Antiracist and Decolonial Approaches to Higher Education," Aisha will explore key principles for putting antiracist and decolonial theory into practice in education and encourage participants to collectively reflect on how we might embed these within our instructional practices.
Before educators can ethically engage in antiracist work on their campuses, it is imperative that they understand and confront structural racism within the academy and within their own disciplines. To that end, participants will be invited to question, unsettle, and re-imagine what it means to be an educator for racial justice and ethical solidarity in our current times.
Though based on the higher education environment, the lecture will be relevant to educators at every level, and others who seek to embed these practices in their work.
When: 7 p.m. to 8:30 p.m. AT on Thursday, November 4, 2021
Where: Online via Microsoft Teams Live
Advance registration is required. Please register online.
This session is free; all are welcome.
About Aisha Haque
Aisha Haque is the Director at Western University's Centre for Teaching and Learning, and she was previously Professor of Writing and Communication at Fanshawe College (London, ON). Drawing on her background in anti-racist, decolonial, and culturally relevant pedagogies, she supports the development of inclusive teaching practices in higher education. Her co-authored publication on intercultural teaching competence was awarded the 2017 Christine A. Stanley Award in Diversity and Inclusion Research in Educational Development from the POD Network. Aisha has presented more than 25 invited keynotes and workshops at universities in Canada, Hong Kong, Japan, and the U.S.
About the President's Visiting Lecture Series on Teaching and Learning
Each year, through the President's Visiting Lecture Series on Teaching and Learning, Mount Saint Vincent University hosts an expert educator to support faculty in enhancing their teaching and to support flexible learning approaches. In addition to sessions offered for University faculty, all visiting experts host a free public lecture (open to all).