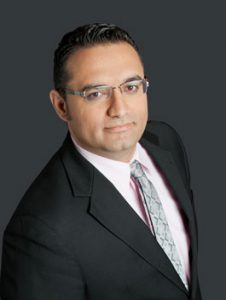 The MSVU Business & Tourism Department's (virtual) Fireside Chat series will feature Saeed El-Darahali, the President and CEO of SimplyCast, at 12 p.m. (AT) on Tuesday, November 2. Saeed is the driving force behind the company, and has helped it grow into a global success with clients in over 175 countries.
The event will be broadcast live on Zoom. Advance registration is required; anyone interested in taking part can register here. Questions can be submitted to business@msvu.ca in advance for inclusion in the conversation.
About Saeed
Saeed El-Darahali is the President and CEO of SimplyCast, a leading provider of self‑service, multi‑channel marketing services empowering small businesses to create, manage and track their own online and offline marketing campaigns.  The driving force behind the company, he has helped it grow into a global success with clients in over 175 countries.
With over 15 years of management experience, Saeed brings his experience in corporate financing, strategic growth, operations, sales, and marketing management to his business and the IT industry. He started his career as a technology commercialization officer before moving to the venture capital industry where he managed a multi-million-dollar fund to support the startup community in Nova Scotia, while working as a part-time lecturer at Saint Mary's University and teaching a computer information systems course.
An active member of the community, Saeed volunteers on many boards to share his experience and help others achieve their goals. As the Chair of Youth Retention & Immigration for the OneNS Coalition, he helped develop the "OneNS – Now or Never Report", which proposes visionary goals to encourage Nova Scotians to aim for change. Saeed is also a board member of EduNova, an international student organization mandated to support post-secondary institutions and language schools to attract students to the region.
Saeed has provided advisory and consulting support to various organizations and programs such as the Government of Canada's Federal Innovation Round Table, the Wage Standard Survey, and the Bank of Canada. Devoted to his work with youth in his community, he is involved in various organizations such as Junior Achievement Nova Scotia, the Sobey School of Business, the Canadian Youth Business Foundation and the Entrepreneurs with Disabilities Network.
Saeed holds a Masters of Business Administration, a Bachelor of Science in Computer Science, a Certificate of Human Resource Management and Minor in Economics, from Saint Mary's University in Halifax, Nova Scotia.
About the Fireside Chats Series
Now in its second year, the Fireside Chats series features online addresses by high-profile entrepreneurs, managers, government officials and CEOs working in business and tourism in Canada. Presented by MSVU's Business Administration and Tourism & Hospitality Management Department, the webinars are open to all and also designed to provide exceptional additional learning opportunity for MSVU Business & Tourism students.