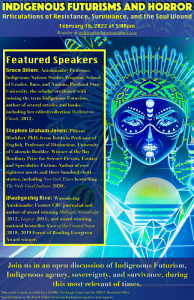 A term coined by scholar Dr. Grace Dillon, Indigenous Futurism is a movement that spans Indigenous science fiction, futurism, speculative fiction, and slipstream, primarily through art, literature and other media. [What is Indigenous Futurism? Listen to Dr. Grace Dillon on the CBC.]
On Wednesday, February 16, 2022, at 5 p.m. (AST), Mount Saint Vincent University will host a group of expert panelists for a virtual discussion about Indigenous Futurism and horror as tools of Indigenous agency, sovereignty, and survivance, toward healing the soul wound.
All are welcome. Advance registration is required to receive the link to attend. Please register by emailing Indigenous.Futurisms@msvu.ca.
Panelists will include:
Grace Dillon (Anishinaabe), PhD, Professor, Indigenous Nations Studies Program, School of Gender, Race, and Nations, Portland State University. Dr. Dillon is the scholar attributed with coining the term Indigenous Futurism, author of several articles and books, including her edited collection Walking the Clouds (2012).
Stephen Graham Jones (Piikani Blackfeet), PhD, Ivena Baldwin Professor of English, Professor of Distinction, University of Colorado Boulder. Dr. Jones was named the winner of the Ray Bradbury Prize for Science Fiction, Fantasy and Speculative Fiction award, and is the author of over 18 novels and 300 short stories, including the New York Times bestselling The Only Good Indians (2020).
Waubgeshig Rice (Wasauksing /Anishinaabe), is a former CBC journalist and author of the award-winning Midnight Sweatlodge (2012), Legacy (2014), and national bestseller Moon of the Crusted Snow (2018), as well as 2019 Forest of Reading Evergreen Award winner.
A question and answer period will follow panelist presentations.
Raymond Sewell (Pabineau First Nation), poet, singer-songwriter and assistant professor of English at Saint Mary's University, and Dr. Ramona Lumpkin, CM, Interim President and Vice-Chancellor at MSVU will open the session, which is being organized by Dr. Bernadette Russo, assistant professor of English at MSVU.
This event is made possible by a SSHRC Exchange Grant and the MSVU Research Office. Special thanks to Dr. Derek Fisher for his assistance with technology.