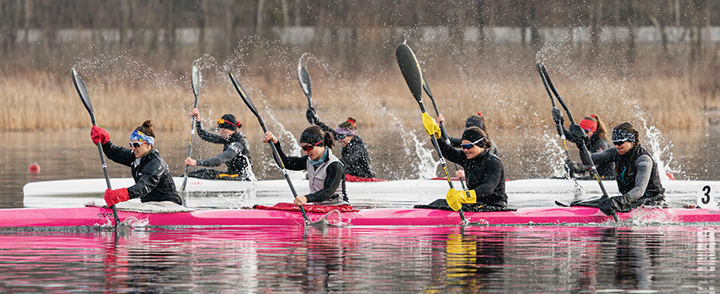 The upcoming Tokyo Olympics will include a strong Mount Saint Vincent University (MSVU) contingent, with two paddlers who are members of the university community participating as athletes in this summer's games.
Michelle Russell, who graduated in spring 2020 from MSVU with a Bachelor of Arts (Honours) in English, and Alanna Bray-Lougheed, who recently completed the coursework for a Bachelor of Science in Applied Human Nutrition, will both take part in the women's 500m K4 (kayak four) event in Tokyo. The two are part of a four-person crew based out of Dartmouth.
Alanna is looking forward to the Olympic experience.
"I'm super excited," she says. "I think it definitely took a couple of weeks after we won our race at trials to have it sink in that I'll be going. I know there's a lot of work to do before then, so I'm just focusing on each day, but having it constantly in the back of my mind. This is extra icing on the cake."
For Michelle, who sits in front of Alanna in the boat when they're training and participating in the four-person kayak event, the Olympics are the next step in a progression of athletic competitions she's taken part in over the course of her paddling career, offering her an opportunity to continue to prove herself in her chosen sport.
"I didn't grow up wanting to go to the Olympics. For me, it was always more like, 'Let's see how far I can make it in this sport.' There's obviously more media coverage around it, but to me, [the Olympics] just seem like another world championship event," she says.
Both women have been paddling since they were children, with Michelle learning the sport through the Cheema Aquatic Club in Waverley
"I started paddling when I was seven. That was more for fun – for example, for summer camp. It was mostly because I have four other siblings – it was just daycare at that point," she says. "I've been paddling competitively since I was 14."
Alanna also found her way to Cheema, joining the club and meeting Michelle after moving to Halifax from Ontario to attend MSVU.
"I've been paddling since I was 10 – so about 18 years total. I started at my local community club in Oakville, Ontario, where I'm from, just paddling in the summer," she says. "I grew up at that club and came out to school at MSVU in 2013."
The two paddlers say that attending MSVU allowed them to balance their studies with training commitments – something that might not have been possible at a larger university with less personal student-faculty connections.
"I wouldn't have been able to complete my degree at another school and continued training at a high level full-time – doing both school and training full-time. MSVU is great because it's such a small school," says Alanna. "I was really able to have good relationships with my profs and explain to them what my lifestyle was like and the scheduling conflicts and assure them that even though my path might not look the same as other students, I was still getting my work done and doing well. MSVU really made it possible for me to do both."
She adds that there were some additional considerations related to the delay in the Olympics due to the pandemic, and the university's support remained consistent.
"This last year, with the Olympics being postponed, I had to ask special permission for my internship to be delayed one more year," says Alanna, who must complete an internship as a requirement for her degree. "I was really worried that wouldn't be able to happen and I'd have to kind of choose between my school career and my work aspirations and my training and my Olympic dream. But they worked with me and we were able to defer my internship by a year, which was amazing. I could not have done this or achieved this without the support from MSVU."
Applied Human Nutrition Professor Linda Mann said that Alanna's hard work as both a student and a paddler is evident.
"It has been a positive experience to support Alanna in achievement of her twin goals to be an Olympian and future professional dietitian," she says. "For example, last year when she had to update her knowledge in food service systems to prepare for dietetic internship, she worked hard and met all the requirements even though she was engaged in paddling training in BC."
Michelle's experience at MSVU was much the same, making it possible for her to continue both her training and her studies even when it meant long periods of time away from campus.
"The school was very accommodating towards my lifestyle and very flexible. In the winter term, we would go down to Florida to train for three months. Having the meeting to discuss that with a professor is very anxiety-inducing," she says. "But my professors in the English department were very supportive. They were very interested in enabling me to both train and get the work done."
Dr. Graham Fraser of the MSVU English Department said Michelle's strong performance as a student made it possible to provide her with the flexibility she needed to continue her athletic pursuits while also studying at the university.
"During her years with us, Michelle impressively managed to combine academic excellence with an increasingly celebrated paddling career at the international level," he says. "For instance, at the 2018 Annual Atlantic Undergraduate English Conference she presented a paper via Skype from her winter training camp in Florida. Since graduating, she has remained an enthusiastic alumnus of the English department, joining us from her training camp in B.C. to take part in our Zoom-based department play-readings this year."
As for what comes next, Michelle is considering graduate studies while Alanna is contemplating options including sports nutrition or becoming a dietitian, possibly working in a hospital setting. But for now, with the final countdown to the Tokyo Olympics at hand, both women are fully focused on preparing for their competition this summer – something the MSVU community is sure to watch with interest.
---

We're building stronger societies through community engagement. Learn more about this MSVU Strategic Plan Theme »