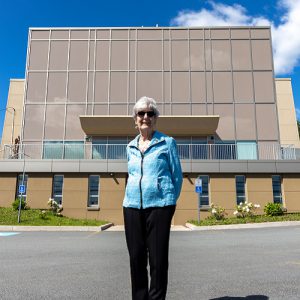 Mount Saint Vincent University today announced that it will name its Centre for Applied Research in recognition of Dr. Sheila A. Brown. Dr. Brown served as MSVU President from 1996 to 2006; July 1, 2021 marks 25 years since she started her term. Dr. Brown and her husband, Dr. Donald Wyllie, recently made a significant financial commitment to the university.
About the Sheila A. Brown Centre for Applied Research
Opened in 2018, the Sheila A. Brown Centre for Applied Research is home to researchers breaking ground in areas of human health ranging from healthy food product development (for example, food innovations in the Medavie Community Kitchen led by Dr. Bohdan Luhovyy and Dr. Shannan Grant) to infant nutrition (in the Milk and Micronutrient Assessment Lab led by Dr. Kyly Whitfield), Alzheimer's disease detection (leading work by Dr. Ian Pottie) and early childhood development (in the Early Childhood Collaborative Research Centre led by Canada Research Chair Dr. Jessie-Lee McIsaac).
The centre was developed through a complete retrofitting of an existing building at 2 Melody Drive on the MSVU campus. The initiative was also funded in part through support from the federal and provincial governments, alumni and friends of the university.
"I can think of no more fitting way to recognize Dr. Brown's significant support of MSVU than by naming this key research centre in her honour," said Dr. Ramona Lumpkin, CM, Interim President and Vice-Chancellor, Mount Saint Vincent University. "She was an exemplary leader during her tenure as MSVU President and her dedication to the university has been unwavering since. We are deeply grateful for Dr. Brown's continued commitment to the MSVU community."
"As a strong champion of university research, it's fitting that MSVU's Centre for Applied Research will now bear Dr. Brown's name," said Dr. Brook Taylor, Interim Vice-President Academic and Provost. "Research played a major role in Dr. Brown's academic career and she was a champion of its importance during her time in leadership. Through her support, she's helping to ensure that research of an exceptional caliber – and that provides valuable learning opportunity for students as future generations of primary investigators – will continue at MSVU."
"I have always been impressed by the breadth and depth of research conducted at the Mount, and with how the research community here has connected to the community at large," said Dr. Brown.
"Sharing knowledge and inviting the community to be part of that process is exemplified in this building," she added. "The Mount provides pathways for people to pursue their education. That has always been part of the Mount's history."
About Dr. Brown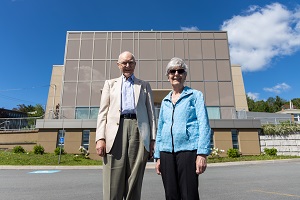 During her tenure as President (1996 to 2006), Dr. Brown re-affirmed MSVU's commitment to academic excellence and oversaw significant growth in academic programs. Under her leadership, the university increased its support to students through enhanced scholarships, a new residence, and other services. On the international stage, Dr. Brown oversaw significant growth in the University's online and distance programs, particularly in Jamaica, Barbados, St. Lucia, and through notable partnerships with Bermuda College.
Dr. Brown was awarded a Queen Elizabeth II Golden Jubilee Medal, named a distinguished member of the Canadian Society for the Study of Higher Education (CSSHE), named a recipient of the Canadian Progress Club—Halifax-Cornwallis Women of Excellence Award, and was inducted into the Atlantic Business Magazine Top 50 CEO Hall of Fame. Dr. Brown was named President Emerita in 2012, an honour bestowed upon presidents who rendered exceptionally distinguished service to the University.
In addition to her other philanthropic commitments to MSVU, Dr. Brown is a lead donor to the scholarship that was established in her name when she retired from the university. The Dr. Sheila A. Brown Endowed Scholarship is awarded annually to a full-time student entering any undergraduate degree program whose entering grades demonstrate outstanding academic achievement.
---

We're advancing research, scholarly work and professional activity. Learn more about this MSVU Strategic Plan Theme »