Nya Urciuoli, a recent Mount Saint Vincent University spring 2023 graduate with a major in French and a minor in Mathematics, had always dreamed of learning a new language and immersing herself in a new culture. Her dream became a reality when she won the prestigious Fenêtre sur la Francophonie, an annual award presented to a student majoring in French who achieves exceptional results in French courses and displays great interest in French language and culture. Thanks to the award, Nya had the incredible opportunity to embark on a two-week trip to Angers, France, last summer, where she fully immersed herself in the language and culture.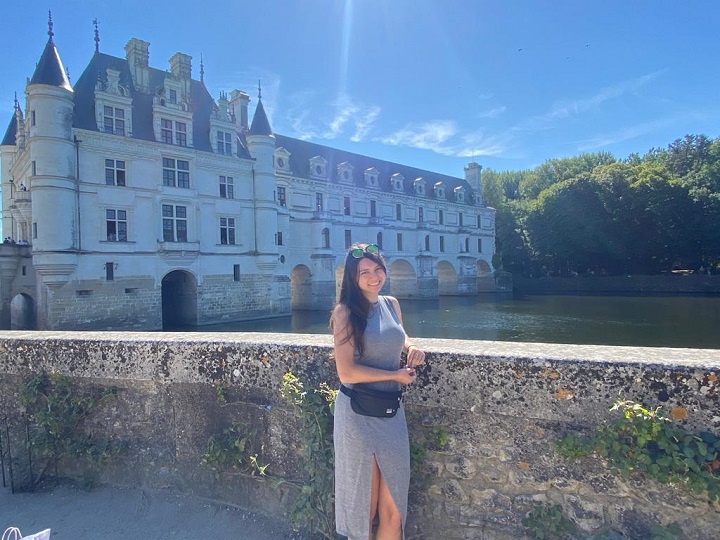 Fenêtre sur la Francophonie
The Fenêtre sur la Francophonie Award was created by faculty members from MSVU's Department of Modern Languages. This special award allows students to experience a trip to France, where they can participate in a language and cultural program. It's an exceptional opportunity for students to broaden their horizons, learn the language in an immersive environment, and discover the richness of French culture.
A Passion for Language
Despite no one in her family speaking French, Nya embarked on her journey of learning the language at the young age of five when she started grade school. Driven by her aspirations of pursuing a career involving the language, she chose French as her major. After finding out she had won the award, Nya shared, "I was very surprised, yet incredibly honoured and excited for the opportunity! I have always dreamed of visiting France and experiencing its culture."
"Nya truly deserved this award," commented her professor and chair of the Modern Languages Department at MSVU Dr. Alexandra (Sasha) Tsedryk. "Throughout all her courses, she has consistently displayed academic excellence. Her curiosity, attention to detail, and ability to grasp complex ideas and concepts make her an exceptional student. Moreover, her helpfulness and skills are highly valued by her peers and professors."
A Journey to France
Nya embarked on her journey to Angers, France in July 2022. While there, she participated in an exchange program at CIDEF (Centre international d'études françaises) at the Catholic University of the West (Université Catholique de l'Ouest). During her trip, Nya took part in a language immersion program with other students from around the world and studied different French subjects such as the history of France, French grammar, and oral French.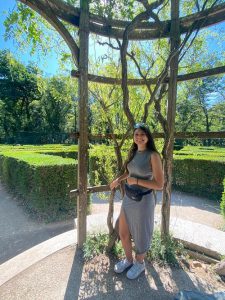 Regarding the trip experience, Dr. Tsedryk explained, "The student lives with a host family and takes classes at the Université Catholique de l'Ouest. It is a complete immersion in French language and culture! Not only are students able to practice language skills, but they learn a lot about the French lifestyle, visit historical places, and, of course, taste French cuisine!"
Nya said that although she was nervous at first, the program was an amazing experience that helped her develop a deeper understanding of the French language and culture, and strengthen her language skills overall. "Since the students in my program came from around the world, I got to hear all of the different French accents, which I really enjoyed," she said. "Moreover, I found that this program helped improve my French skills by teaching me the more informal ways of speaking."
Nya shared some of the unique discoveries she made and experiences she had on her trip. "One thing I learned was that there are a surprising amount of Italian restaurants in France," she said. "My favourite part was walking around and exploring Angers, and one cool thing I saw in the village centre was a bunch of servers from different restaurants all racing each other while carrying trays filled with plates and glasses!"
MSVU's Modern Languages Department
Nya's achievements highlight the exceptional language education provided by MSVU's Modern Languages department. The department offers Major, Minor, Honours, and Certificate programs in French, as well as programs/courses in Spanish and Chinese (Mandarin). The degree in French focuses on giving students a deep understanding of the language while emphasizing cultural immersion, critical thinking, and effective writing and speaking skills.  The department's Language Lab is a hub where students can practice speaking, socialize, study, relax and attend special events.
Dr. Tsedryk said, "It is a vibrant department of a small size, which gives students an opportunity to know each other very well, to become friends for life, while they explore French language and many aspects of Francophone culture including literature, film, and theatre."
Nya expressed her positive experience in the program, highlighting the significant improvement in her French writing skills. "I would even say that I am now better at writing essays in French than in English," she confessed. "I also like the French program because we always do fun activities like karaoke and improv!"
A Life-Changing Experience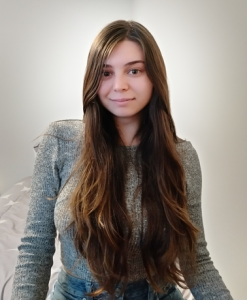 For Nya, the trip to France through the Fenêtre sur la Francophonie Award has been life-changing and opened new doors for personal and academic growth. In the future, Nya plans to continue her academic journey by obtaining a Bachelor in Education to ultimately teach Mathematics in French.
"I want to thank the French department for giving me such an incredible opportunity," she said. Nya also added one small tip for anyone going to France in the future. "Beware of the heat during the summer months! Most places do not have air conditioning, so stay cool!"
---

We're transforming teaching and learning. Learn more about this MSVU Strategic Plan Theme.