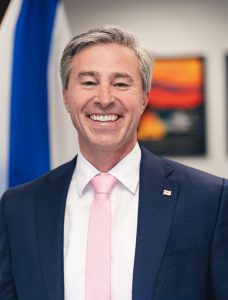 The MSVU Business & Tourism Department's (virtual) Fireside Chat series will feature a conversation with Nova Scotia Premier The Honourable Tim Houston at 7 p.m. (AT) on Tuesday, March 8, 2022.
The event will be broadcast live on Zoom. Advance registration is required; anyone interested in taking part can register online. Questions can be submitted to business@msvu.ca in advance for inclusion in the conversation. The session will be co-hosted by MSVU student Jennifer McBride and professor Jeff McKinnon. Participating MSVU students are asked to register via the link on the Learning Passport Moodle site.
About Premier Tim Houston
Before being elected Nova Scotia's 30th Premier, The Honourable Tim Houston worked in financial services and reinsurance. He holds a Bachelor of Commerce degree and Chartered Accountant designation and, in 2020, was awarded his profession's highest mark of distinction, the Fellow (FCPA) designation, by Chartered Professional Accountants of Nova Scotia. His political career began with his successful pursuit of the Pictou East PC nomination in 2012. He was first elected to the Nova Scotia House of Assembly in the 2013, and then re-elected in 2017 and 2021. In 2018, Premier Houston was elected Leader of the PC Party of Nova Scotia. He also serves as Minister of Intergovernmental Affairs and Trade.
About the Fireside Chats Series
Now in its second year, the Fireside Chats series features online addresses by high-profile entrepreneurs, managers, government officials and CEOs working in business and tourism in Canada. Presented by MSVU's Business Administration and Tourism & Hospitality Management Department, the webinars are open to all and also designed to provide exceptional additional learning opportunity for MSVU Business & Tourism students.
Media contact:
Gillian Batten
Director, Communications
Mount Saint Vincent University
Gillian.Batten@msvu.ca
902-457-6439